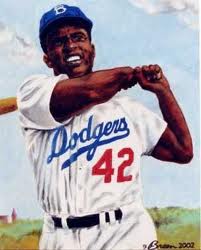 Play Ball! Along with the start of Major League Baseball season (opening day was on Easter this year), baseball fans have the movie "42" to also help get their 2013 game juices flowing.
Take a timeshare vacation to New York City, and enjoy exploring the life and times of the hero of "42" – Jackie Robinson.
The movie "42" is the story of African-American athlete Jackie Robinson, who integrated Major League Baseball when he joined the Brooklyn Dodgers in 1947.
After watching this inspiring story, you may be inspired yourself to visit the places in Brooklyn connected to Jackie Robinson.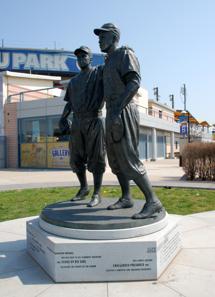 1. Statue. A statue (see photo left) commemorates the instance when Brooklyn Dodgers captain Pee Wee Reese stood by Jackie Robinson against prejudiced fans and fellow players by walking over to Robinson, standing next to him and "silencing the taunts of the crowd" during a game in Cincinnati. The statue is located outside MCU Park on Coney Island, where the minor league Cyclones team plays.
2. Homes. In East Flatbush a two-story brick house at 5224 Tilden Ave. bears a plaque that states: ''The first African-American major league baseball player lived here from 1947 to 1949.'' Robinson and his wife Rachel also lived for a time at 526 MacDonough St. in Bedford-Stuyvesant. Some scenes of the movie were shot on MacDonough because the filmmakers wanted to show the building's distinctive front stoop, a common feature of Brooklyn homes.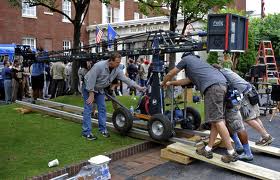 3. Church. When Robinson first arrived in New York, he lived for a time with the then-assistant pastor of the Nazarene Congregational Church, at 506 MacDonough St., the Rev. Lacy Covington and his wife Florence. ''Church and faith were central to Jackie Robinson's success,'' said Tony Carnes, who publishes an online magazine called A Journey Through NYC Religions.
4. Grave Site. Robinson died in 1972. ''A life is not important except in the impact it has on other lives,'' reads the inscription on Robinson's tombstone. Mementos left by fans at the grave include bats and baseballs. The cemetery entrance is 833 Jamaica Ave., Brooklyn.. Robinson's plot is on Jackie Robinson Way.
5. Ebbets Field and Washington Park. Robinson retired after the 1956 season, a year before the Dodgers moved to Los Angeles. Ebbets Field was demolished in 1960 and was replaced by an apartment complex where a stone in a wall is inscribed with the words ''This is the former site of Ebbets Field."
Beginning in 1883 Brooklyn's baseball team played in Washington Park, which is better known as a Revolutionary War site. The man who would build one of the most famous ballparks in the country started out as a ticket-taker at Washington Park, then worked his way up to control the team. His name was Charlie Ebbets.
Make your timeshare trip to New York City budget-friendly by staying in a Manhattan timeshare rental for currently as little as $112/night.
Photo Credit: windomstat.blogspot.com
Photo Credit: boston.co
Photo Credit: al.com
Source: boston .com
Categorized in: Brooklyn Dodgers, Ebbets Field, Jackie Robinson, Manhattan timeshare rental, movie 42, New York City timeshare rental, timeshare rental, timeshare travel, timeshare vacation