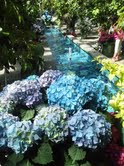 Springtime flowers at the botanic gardens in Washington, D.C., submitted by Scott Mendonhall, Chandler, AZ.
The United States Botanic Garden is located on the National Mall, just to the southwest of the U.S. Capitol, and is home to almost 10,000 living specimens, some of them over 165 years old.
Find budget-friendly Washington, D.C., area timeshare rentals at Wyndham Vacation Resorts at National Harbor, and at Wyndham's Old Town Alexandria.
Submit your photo to #TravelTuesday! Just send it via email to us at: learnmore (at) redweek (dot) com. Let us know your name, where you are from, and where the photo was taken
Categorized in: D.C., timeshare rentals, timeshare travel, traveltuesday, United States Botanic Garden, Washington, Wyndham Vacation Resorts at National Harbor, Wyndham's Old Town Alexandria