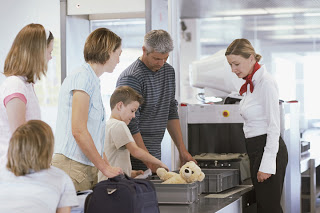 This summer many of you will be flying with your family for the first time in a long time, and while airport security regulations seem to be constantly changing, there are tips that can help you get your family through security and on to your timeshare vacation as easily as possible.
If you're marshaling a family group, and especially younger children, through airport security, doing these four things ahead of time will give you a much smoother experience:
Ahead of time:
1. Have a talk with your children to make sure they have some understanding of what will be happening going through security, such as they will be required to walk through the metal detector by themselves, but that you'll be right there.
To prevent tears make sure your children know ahead of time that toys and electronics need to be placed on the conveyor belt, but that they will all be returned in just a couple of minutes.
Children over 12 will also need to understand that they will need to be prepared to remove their shoes and place them in the bins.
2. Before leaving the house, place all cell phones, cameras, iPods and other electronics in a see-through zip-top bag. This allows you to keep these items in one place. You'll be able to easily remove the bag from your carry-on to place them all on the conveyor belt.
3. Dress all family members to avoid such things as belts, clothing with metal clasps, and shoes that tie. Clothing with metal adornments, such as seen on many children's outfits, will set off security alarms.
Underwire bras and metal hair clips will set off alarms, too, as well as heavy jewelry.
4. Before entering the security check area, have everyone remove everything from their pockets and put them in the carry-on bags. Nothing can be in pockets when walking through the metal detector, and it's much easier to take care of this now before you are trying to manage the entire family through security.
You can bring along another zip-top bag in which to place the pocket contents – either one large bag for all, or several individual bags for each family member. The bags will make it easy to return the items to the proper person after going through security.
If you have just started the process of planning your family's summer vacation, remember that timeshare rentals are available almost everywhere you might want to go, offer spacious accommodations, and are generally up to 50% less the cost of a cramped hotel room.
Photo Credit: visualphotos.com.
Categorized in: airport security, family travel, metal detectors, summer vacation, timeshare rentals, timeshare vacation, tips for flying with family