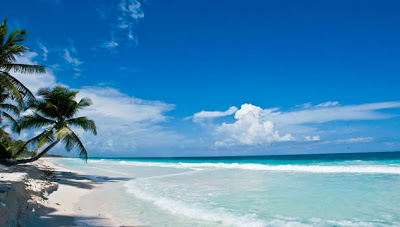 Cancun is not for everyone, with its glitzy nightlife and uber-active crowds. But a timeshare vacation to Mexico's Caribbean Jewel could still be in your future if you want to simply focus on the amazing beaches.
The area has more than 80 miles of white-sand Caribbean beaches, and many people feel that the scenery and beach quality rival the more elite islands such as Turks & Caicos. The trick is to look beyond Cancun's strip to the broader area called the Riviera Maya.
This district historically started at the city of Playa del Carmen and ended at the village of Tulum and was originally called the Cancun – Tulum corridor, but in 1999 it was renamed the Riviera Maya.
A major attraction throughout the Riviera Maya are coastal and reef aquatic activities dependent on the coastal water and the Mesoamerican Barrier Reef System (also known as the Belize Barrier Reef) which begins near Cancun and continues along the length of the Riviera Maya southward to Guatemala.
This barrier reef system is the second longest in the world, and is one of the reasons the beaches along the Riviera Maya are so outstanding.
Below are three of the most beautiful beaches outside of Cancun:
1. Isla Mujeres 
Located six miles off the coast of Cancun and reached by ferry it offers a special "postcard soft-sand beach." Extended shallow water appeals to families with young children. The most popular mode of transportation is a golf cart, and for such a compact place, there's an remarkable number of restaurant to explore..
2. Playa Mujeres 
This upscale area has cropped up just north of Cancun, in the opposite direction of busy Riviera Maya. It's a secluded, almost untouched stretch of coastline with nothing else around, and is the kind of place where you can enjoy peace and quiet, beautiful scenery, and even fishing or snorkeling.
3. Tulum (see top photo)
South of the Tulum ruins, this beach is located at the far end of Riviera Maya, about an hour and a half from Cancun, and actually fairly near the Balize border. The beaches here are some of the most pristine on the Yucatan, making this destination worth a day trip from your Cancun timeshare rental.
Cancun timeshare rentals range from budget-friendly to posh, and everything in between.
Photo Credit: casadelasolas.com
Source: Gadling
Categorized in: beautiful beaches, Belize Barrier Reef, Cancun, Cancun timeshare rentals, Caribbean islands, Isla Mujeres, Riviera Maya, timeshare rentals, timeshare vacation