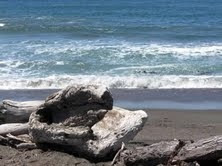 Cambria Beach, CA – submitted by Joann W., Poway, CA
Cambria is a lovely little seaside town located on the beautiful Big Sur stretch of California Highway 1 between San Francisco and Los Angles.
It is just six miles from famous Hearst Castle in San Simeon. During the Great Depression Cambria was able to thrive as it supported the building of Hearst Castle with both employment and supplies.
Known for its rocky cliffs, amazing driftwood, and large stretches of sandy beaches, Cambria is a popular stopover for vacationers traversing Highway 1.
There are many California timeshare rentals available along the state's coast from north to south.
Submit your photo to #TravelTuesday! Just send it via email to us at: learnmore (at) redweek (dot) com. Let us know your name, where you are from, and where the photo was taken.
Categorized in: Big Sur, California Highway 1, California timeshare rentals, Cambria, Hearst Castle, timeshare rentals, timeshare travel, traveltuesday