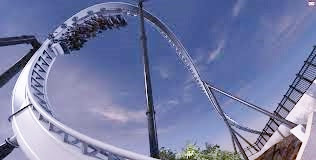 Summer is all about letting go, unplugging, and having fun. A timeshare vacation where you can do all of that could very easily include theme parks with the best roller coasters in the world.
Based on the standards created by ASTM International, a private standards-setting organization based in Pennsylvania, roller coaster designs include maximum thrust, acceleration and drops.
While designers abide by these standards, they can push the boundaries in new ways. In Part 1 we looked at 3 of the Top 5 Roller Coasters – New Jersey's Kingda Ka, El Toro, and England's The Colossus.
Below are numbers 4 and 5, both at Six Flags Magic Mountain in Valencia, CA.
4. Tallest, fastest looping ride: Full Throttle. (See top photo) Opening the summer of 2013 at Six Flags Magic Mountain in Valencia, CA, Full Throttle puts riders through a record-breaking 160-foot loop that reaches speeds of 70 mph.
It also boasts a number of other unique elements, including a "top hat" element that spans the other side of the loop, and a total of three launch sections.
5. Tallest drop tower ride: Lex Luthor: Drop of Doom. Unlike a roller coaster, a drop tower lifts riders to the top of a vertical tower before letting them free fall.
The Lex Luthor: Drop of Doom , also at Six Flags Magic Mountain, reaches a height of 400 feet and drops at a speed of 85 mph.
 Take a look at this video and see if you're up for this ride.
Six Flags Magic Mountain, a 260-acre theme park located near Los Angeles in Valencia has 18 major roller coasters, the most of any park in the world.
In 1976, Magic Mountain became the first park in the world to have a modern, 360-degree steel looping coaster.
Magic Mountain's proximity to downtown Los Angeles, the hub of the American film and television industry, has resulted in its appearance in several productions, usually representing a park other than itself.
In 1982, Magic Mountain became the fictional "Walley World" for National Lampoon's Vacation, with scenes featuring Revolution and Colossus (each using fictional names).
TV productions featuring Magic Mountain have included CHiPs, Wonder Woman, Knight Rider, and Buffy the Vampire Slayer.
By staying in a Southern California timeshare rental you can enjoy a budget-friendly California vacation, drive just an hour to Magic Mountain, and also explore other iconic Southern California attractions such as Disneyland, Universal Studios, and the Hollywood Walk of Fame.
Summer Timeshare Travel – 5 Top Biggest and Badest Thrill Rides – Part 1
Photo Credit (top photo): coasterguy.wordpress.com