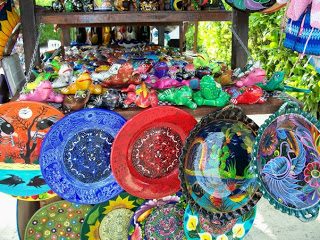 Mexico continues to be one of the top vacation destinations in the world. And from the vendors on the beach to upscale malls, shopping is part of the excitement of having a timeshare vacation in this lively country.
Follow these 5 tips for a great shopping experience in Mexico:
1. Bargaining.  
Generally speaking, the act of bargaining is something that most people like to avoid, and in Mexico when you are shopping in stores and malls, bargaining is no more accepted than it is in the U.S.
However, in places such as the open-air markets and with vendors on the beach, bargaining is not only accepted, but expected.
As author Carl Frantz puts it in his travel book, The People's Guide to Mexico, bargaining is not an argument. Instead it is "a polite discussion of price," a dialogue that should always be kept "light, friendly and easy-going."
Knowing that you are expected to bargain can make the process a fun game. Once you have determined that you want an item, offer half of what they ask and work your way up until you reach a price you're willing to pay.
A trick is to not let the seller see that you really want something. They will get firm on the price very quickly and refuse to come down any lower if you're fondling the item or otherwise displaying your desire for it. 
2. Buying Groceries.
Since vacationing with a timeshare gives you a kitchen and the opportunity to prepare many of your own meals, knowing how to purchase your groceries in Mexico is important.
Most grocery stores in tourist areas of Mexico carry American brands, but the Mexican versions of the same things are frequently just as good, and cheaper. The Mexican brands of canned tuna, for instance, are generally better tasting and half the price of American brands.
When buying meat (carne), look for a "carniceria" – the neighborhood butcher shop. Here you'll get the best deals on meat, and they will custom cut it for you.
Fruits and Vegetables (frutas y verduras) can easily be purchased in any number of neighborhood shops and are generally very fresh. However, be aware that DDT is still widely used in Mexico, so always wash your vegetables carefully in purified water before you eat them, most especially anything you will be eating raw.
3. Clothing.
For one of the best buys on clothing for your vacation, look for a popular shop called Maria de Guadalajara. Aimed for the local Mexican population you will not find it in the tourist areas.
This popular store sells gauzy, cool and stylish resort wear – washable, breathable, preshrunk and nearly maintenance free.
4. Buying Silver.
You'll see a lot of silver being offered for sale. You are generally safe purchasing silver in the upscale stores.
However, beware buying silver from beach vendors and in the open-air markets, which is often of poor quality. Always check to see that it is marked with a .925 (or higher), and/or the word Sterling, to be sure that what you are getting is good quality and actually worth what you are paying.
5. Say "No" the Mexican Way.
If vendors or children are pestering you, waggle your index finger from side to side as you are saying "No." This is the signal that most Mexicans understand means "I really mean No."  Be polite about it, smile, but learn to waggle that finger!
Budget-friendly Mexico timeshare rentals at luxury resorts abound, from beautiful Baja California on the west coast to the east coast's Yucatan Peninsula on the Caribbean.
Source: Inside the Gate Timeshare News
Photo Credit: mytravelchannel.com