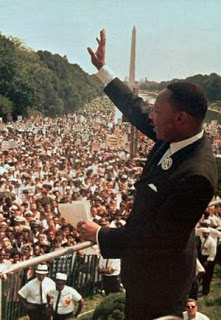 A timeshare rental now in Washington, D.C., will get you in the middle of the exciting week-long celebration planned to commemorate the 50th Anniversary of the March on Washington that occurred in August, 1963. 
Beginning today, August 21, and going through next Wednesday, August 28, various activities have been planned in the Nation's Capital to pay tribute to the 1963 event when more than 200,000 Americans gathered in Washington DC for a political rally which became a key moment in the struggle for civil rights in the United States.
On that day, August 28, Dr. Martin Luther King inspired millions across the world with the delivery of his famous "I Have a Dream" speech on the steps of the Lincoln Memorial.
Here are five 50th Anniversary events not to be missed:
1. "Realize the Dream" March
This march and rally will be the main event on Saturday, August 24. Held from 8 a.m. to 4 p.m. the event starts at the Lincoln Memorial and will then move over to the Martin Luther King Memorial.
 2. "I Have a Dream" Gospel Brunch
To be held at the Willard InterContinental Hotel on Sunday, August 25 at 11:30am. Included is a sparkling wine reception, elaborate Southern-style brunch buffet by Executive Chef Luc Dendievel and a commemorative Martin Luther King keepsake.
The program will feature famed opera singer Denyce Graves, and include a dramatic reading of the "I Have a Dream" speech. 
3. Panel Discussion with the Historical Society of Washington
This event is planned to be held on August 27 at 7 p.m. at the Carnegie Library. This engaging panel discussion will explore the local and national impact of the March on Washington in the context of the photographers who documented the historic march and the way that newspapers covered the event.
4. "Changing America: The Emancipation Proclamation, 1863 and The March on Washington, 1963"
This is a special exhibit at the Smithsonian's National Museum of American History. The exhibition examines these two pivotal events and their larger relevance for all Americans today.
The exhibition features historic and modern photographs and items ranging from Harriet Tubman's shawl to a portable version of the Emancipation Proclamation—one created for Union soldiers to read to and distribute among African Americans.
This exhibition will be on view through Sept. 15, 2013.
5. "Let Freedom Ring"
The second march to be held celebrating the 50th Anniversary of the March on Washington, this one will be held on August 28 – 50 years to the day after the march and  Dr. King's "I Have a Dream" speech.
Leading the march will be veterans of the 1963 march, as well as the Civil Rights Museum on Wheels, a fully-restored transit bus used during the segregation era.
Whenever you visit Washington, D.C., enjoy staying at a timeshare rental at either the Wyndham Old Town Alexandria or the Wyndham Vacation Resorts at National Harbor.
Photo Credit: shreveporttimes.com