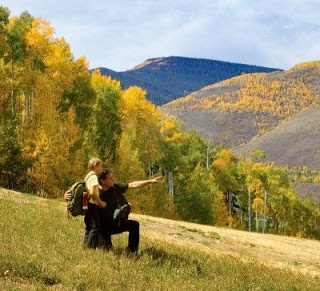 A fall timeshare vacation is the perfect opportunity to enjoy beautiful weather and beautiful scenery with day backpacking.
Backpacking is a great activity and can be lodes of fun. It can also be impractical for many people to backpack for long periods, camping every night and striking out across the hinterlands each morning.
Whether due to finances, health concerns, or just plain time, many people would enjoy backpacking if it could be taken in smaller bites. Enter timeshare rentals. Yes, that's right – rent a timeshare and go backpacking!
A timeshare rental offers many advantages for backpacking, including a very convenient home base.
There are many budget timeshare rentals available in areas where day-trip backpacking through beautiful wilderness areas is possible, such as National Parks, seashores, and some real hidden gems.
A good example of backpacking in a National Park is the Great Smokey Mountains National Park. Timeshare rentals are available in Gatlinburg, the "gateway" to America's most visited National Park. 
Located on the border of Tennessee and North Carolina, the park lies right in the heart of Appalachia, and offers over 800 miles of hiking trails.
In Gatlinburg timeshare rentals are as low as $59/night.
Cape Cod, Massachusetts, offers many great timeshare rentals ( as low as $86/night) and the Cape Cod National Seashore where you'll find a dozen hiking trails that are open year round.
Ranging from easy to advanced, these trails can take you on wonderful day-trip backpacking adventures across 43,000 acres of dunes, ponds, woods, swamps, marshes, and almost 40 miles of Atlantic shoreline.
Many consider Idaho a "hidden gem" for backpackers. Sixty-four percent of Idaho is public land, including 33 million acres of national forests, and lands managed by the Bureau of Land Management.
Rent a timeshare in Ketchum, adjacent to Sun Valley, for as little as $100/night, and you have the entire 73,000-acre Sawtooth National Recreation Area at your doorstep.
The Missouri Ozarks offer another great hiking area, especially when in their crimson glory during the Autumn. Hundreds of miles of hiking trails are around the Branson area, where you can get a Branson timeshare rental for just $57/night.
When you combine budget-friendly timeshare rentals with your backpacking passion, you get the best of two worlds.
And by the way, if you have family members who are not into backpacking with you, a timeshare rental will give them plenty to do – most are attached to resorts and many of the resort's amenities (often including swimming pools, children's playgrounds, tennis, and arcade game rooms) are included in the rental price.
Photo Credit: 123rf.com