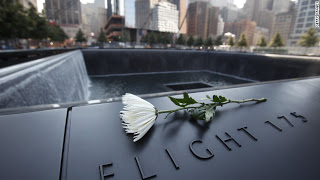 Plan a timeshare vacation to New York City to visit The National September 11 Memorial, and see the progress on the building of One World Trade Center.
The 9-11 Memorial remembers the almost 3000 men, women, and children who died in New York City in the terrorist attacks of September 11, 2001 and February 25, 1993.
Poignantly the memorial is officially named "Reflecting Absence." Popularly called the "9/11 Memorial " it opened on the 10th Anniversary of the attacks, September 11, 2012.
The actual foundations of each of the two towers, the "footprints" where the World Trade Center twin towers once stood, have been turned into pools where 30-foot waterfall fountains – the largest in North America – cascade.
Around each pool the names of the victims have been etched in bronze. Interestingly, the placement of the names is not alphabetical, but instead honors the request from the victims' families to place certain names with others based on where they were that day, and the relationships the people had with each other. 
Eventually an 8-acre field of white oak trees will surround the footprints. The trees are from nurseries near each of the three sites of the 9-11 attack – New York City, Washington, D.C., and Shanksviille, Pennsylvania where Flight 93 went down.
When fully redeveloped the new World Trade Center will not only include the 9-11 Memorial but also a museum, commercial office buildings, retail shops, and connections to the subway.
The centerpiece will be One World Trade Center, also known as the Freedom Tower. Including its pinnacle height this new skyscraper will be 1776 feet high, a symbolic honoring of the year in which the United States declared itself an independent nation.
This height also makes the Freedom Tower the tallest building in the Western Hemisphere, and tentatively the 3rd tallest building in the world.
Construction will continue for some time on the various new World Trade Center buildings. The 9-11 Memorial will be open to the public during this time, but to ensure the public's safety, as well as the security of the construction site, screening and passes are required. The passes are free.
Once the new World Trade Center complex is completely built, the public will have open access to the 9-11 Memorial, including the footprint fountains and the beautiful park of white oak trees.
New York City timeshare rentals are amazingly budget-friendly in downtown Manhattan.
Photo Credit: cnn.com