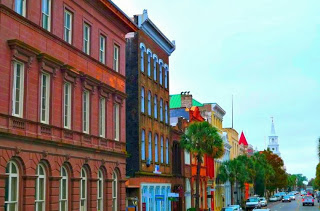 Known as the "Jewel of the South," Charleston is the oldest city in South Carolina. And this jewel shines even on days when it rains. There are endless places to explore in this city laced with history. Stay in a  Charleston timeshare and discover the top 5 things to do in Charleston, SC:  
1. Go Rogue: History buffs will love the Magnolia Cemetery. Founded in 1849 the cemetery features wispy trees and old tombstones along the banks of the Cooper River. Look for the graves of Southern leaders such as governors Thomas Bennett, Langdon Cheves, Horace L. Hunley and Robert Barnwell Rhett. There are also hundreds of Confederate soldiers buried here including five generals: Micah Jenkins, Arthur Manigault, Roswell Ripley, James Conner, and C.H. Stevens.
Web: Magnolia Cemetery. Location: 70 Cunnington Avenue.
2. Be Active: Take a walking tour around Charleston and learn about the gorgeous architecture and fascinating history.
Web: Charleston Footprints. Location: 108 Meeting Street.
3. Discover Royalty: The Aiken-Rhett House offers a self-guided audio tour through the former home of Governor William Aiken, Jr. The home was previously owned by his father, railroad company owner William Aiken. The house offers a rare glimpse into what slave quarter living was like.
Web: Aiken-Rhett House. Location: 48 Elizabeth Street.
4. Explore a Plantation: Drayton Hall has amazingly survived both the American Revolution and the Civil War. Preserved in near-original condition and built by slaves this plantation along the Ashley River was the home of seven generations of the Drayton family. Go on a tour of the plantation's expansive grounds and enjoy the home's Georgian-Palladian architecture.
Web: Drayton Hall. Location: 3380 Ashley River Road.
5. Get Spooked: The Haunted Jail Tour at night is a spooky treat. The tour takes you through the Old Charleston Jail which was home to several of America's notorious criminals including the famed Lavinia Fisher.
Web: Haunted Jail Tour. Location: 21 Magazine Street.
Discover timeshares in Charleston, SC.
Photo Credit: CopyStrands