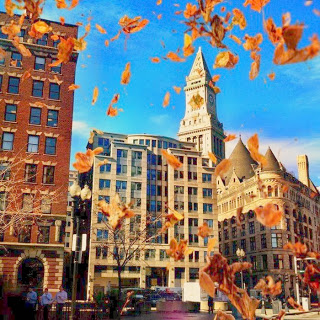 Columbus Day is an official Massachusetts state holiday celebrating the day that Christopher Columbus arrived in America (on October 12, 1492). And Boston locals sure know how to honor Columbus Day. In mid-October the city celebrates with a parade, festivals, and sports events. It's also one of the top shopping weekends as stores put on spectacular sales. Boston is a perfect place to visit and discover gorgeous New England fall foliage while you get a jump on your holiday shopping. Stay in a Boston timeshare and discover the top 5 things to do in Boston, MA:
1. Discover Columbus Day: The three-day weekend on the second week in October features a parade with marching bands, military units, vintage autos, and floats. Web: Boston Columbus Day. Locations: In odd-numbered years the parade marches through the North End. In even-numbered years the parade marches through East Boston.
2. Go on a Foliage Tour: Take your camera and enjoy a golden treat. The New England fall foliage is the star on this tour. Warm oranges and bright golds will fill your photos with earthy tones and leave you with fantastic fall visuals to take home and show your friends. Web: Fall Foliage Tour. Location: Pick up locations at various hotels around the city.
3. Visit the Cranberry Harvest: Cranberry harvesting takes place mid-September through early November. Visitors enjoy demonstrations of the cranberry harvest, cooking demos, and paddleboat rides on scenic Tihonet Pond. It's great fun for the whole family. Web: Cranberry Festival. Location: 158 Wareham, MA.
4. Pack a Picnic: Head over to Christopher Columbus Park and enjoy a day of fun overlooking Boston Harbor (the site of the famed Boston Tea Party…"throw the tea into the sea!"). Local performers and family activities include fun for the whole family. Web: Boston Harbor. Location: Atlantic Ave & Richmond St., Boston, MA.
5. Catch a Pro Game: Boston loves its sports events, you know their saying: "Boston Strong." Watch the Bruins shoot the puck around at TD Garden or see the New England Patriots score a touchdown at Gillette Stadium. A great way to feel Boston pride, especially on Columbus Day weekend. Web: Boston Bruins; New England Patriots. Locations: Boston Bruins: 100 Legends Way, Boston, MA; New England Patriots: 1 Patriot Pl, Foxboro, MA.
Discover timeshares in Boston, MA.
Photo Credit: City of Boston
Categorized in: 2013, Boston, Columbus Day, Family Friendly Vacations, MA, Things to Do, timeshare rentals, Top Five, travel