The snow is starting to fall in various ski resorts across the country…have you planned your ski trip yet? We'd like feature a few ski resorts this month to help get your planning started. First up, Park City Utah's Westgate Park City Resort & Spa.
Westgate Park City Resort & Spa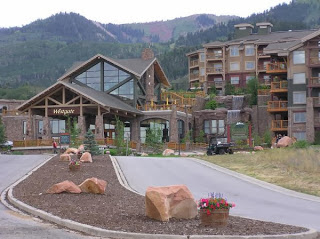 Westgate Park City Resort located just minutes away from all the ski slopes and attractions that Park City has to offer, is a great resort for your winter adventure. Even if you are not a skier, the resort and the area provide many other exciting activities for all ages and interests. And if you need more incentive to visit, we recently found out Westgate Park City Resort and Spa was awarded Utah's 2013 Winner Best of State award!
Checking in
You and your family, or friends can choose from a variety of accommodations that feature views of Utah's awe inspiring Wasatch Mountain Range. Accommodations start with Studio Luxury Villas that sleep up to 4 guests, and go on up to two, three and even four bedroom villas that accommodate 14 guests. (What a party you could have!) All provide the comforts that your "home away from home" should have…fully equipped kitchen, luxurious bathroom, separate living and dining areas, fireplace, and private balcony or deck. Though you'll probably spend most of your time outside, it's nice to have a comfortable home to come retreat to. 
Concierge to the Rescue
The resort has a concierge desk with staff ready to help you plan your days!  Like a secretary or your mom, the concierge can make your day soooo much easier by assisting you with all those little planning details you don't want to be concerned with on vacation! The concierge will book excursions, activities, dinner, ski rentals, transportation, and more. Whew! What a relief.
All About Skiing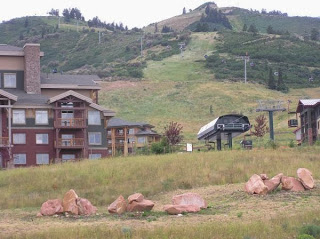 Ski lifts just steps from the resort
The Westgate Park City is in a prime location for skiing. It's located at the base of Utah's single largest ski and snowboard resort, The Canyons. The Westgate Resort offers ski-in and ski-out access to the Canyons' 4000 + skiable acres and a free ski valet service. There's a Ski Rental store and ski locker rooms on the property too.
Complimentary Shuttle Service Anyone?
Of course you will want to hit the other ski areas. The Westgate Park City offers a complimentary shuttle service to Deer Valley Ski Resort, Montage, and Park City Mountain Resort. The service also will take you to downtown Park City for shopping and dining, and to many other local areas.
Other Winter Sports 
Skiing is not the only winter sport that requires snow. Popular in the area is snowboarding, snowmobiling, snowshoeing, and snow tubing. There's also bobsledding, ice skating, cross-country skiing, and ski jumping. Does that sound like enough to keep you occupied?
Après-Ski…Hot Tubs, Yoga, and Serenity Spa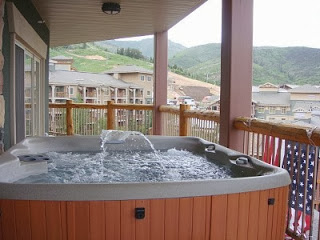 Private hot-tubs
Ok, so you've spent a long day on the slopes, you've snowboarded, ski jumped and ice skated, and your body is telling you that it's time to relax and revive. What do you do? You could stretch out those tired muscles in the resort's yoga studio and then hop in the hot tub, or visit the aptly named Serenity Spa, the ideal after-party for your day of activity.  Let spa technicians customize a service just for you as you kick back in the luxurious treatment rooms.  After or before your treatment sooth your over-extended muscles with a sauna or steam. Heaven!
Dining Options
You've got to eat to keep up your strength for all those activities. Westgate Park City's Edge Steakhouse won Utah's 2013 Best of State Award. Chef de Cuisine Nick Lees, also a Utah State winner, is known for his amazing culinary creations. If it's a burger and a more casual setting you want, there's also Drafts Sports Bar & Grill on the property. Take the resort's shuttle into Park City for many dining options, or cook a meal in your villa's kitchen.
Sundance Film Festival
We can't mention Park City without mentioning the 2014 Sundance Film Festival to be held January 16-26. If you plan your stay during this time, you might get to mingle with a celebrity or two, and are sure to see some excellent new independent films. Try to get your tickets in advance, but maybe the concierge at the resort can pull some strings for you!
What Travelers Say About Westgate Park City Resort and Spa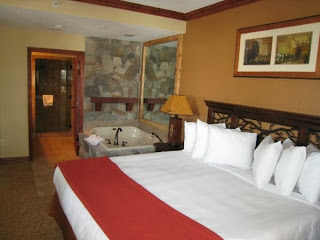 "Spacious and upscale" rooms
Review from RedWeek member Loren62:
 "Fabulous! We just returned from staying in a 2Br, 2br that slept 8 perfectly and could have accommodated 2 more. Spacious and upscale. We were just steps away from the gondola and the Westgate delivered our skis directly to the gondola every morning. They provided daily towel service and cleaning in all areas including kitchen and bathrooms. Their locker service is convenient. Pool, hot tubs and game room were a thrill everyday after skiing.The onsite restaurant was phenomenal and had a great wine selection. We would definitely stay again!" (Family of 4 adults, 2 teens and 2 pre-teens.)
Read more reviews & check out the rentals at Westgate Park City Resort & Spa, currently starting at just $114/night USD!
More ski resort reviews coming up soon!  Subscribe to make sure you don't miss any.