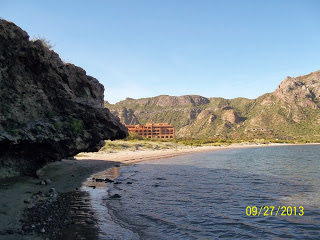 The people lucky enough to have discovered the Villa del Palmar at the Islands of Loreto in Baja California Sur, Mexico, go on and on about how relaxing it is, and they are right. The resort sits on a quiet bay with calm, warm blue water and a cove for snorkeling is just down the beach. There are no vendors here to hound you, no noisy wave runners to interrupt your reading. The entire bay is a protected National Marine park and a UNESCO World Heritage site and the snorkeling is fantastic. Paddle boards and glass bottom kayaks are available for rent for a leisurely cruise around the bay. 
When you first enter the impressive lobby, you are brought an icy chilled cloth for your neck and a virgin piña colada, in need of ice and a shot of rum in my opinion, but a welcoming gesture just the same. 
Rooms: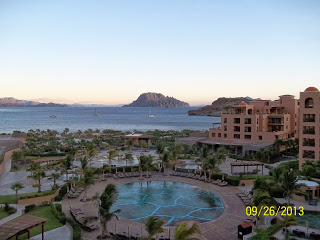 The rooms are classic, modern and the main focus is on the view from the large balcony. The kitchen is well stocked with fancy glassware, pots, pans, dishes, toaster and stainless steel appliances, microwave and small cook top. The beds are perfect!   


Pools: 
The pools are really a work of art: 20,000 square feet of pure beauty, in the shape of a giant turtle. Biggest pool I have ever been in ever,  and when the lights came in, it was like swimming in liquid gold. There is a huge hot tub too, at least big enough for 25 people. 


Dining:  
There are 3 restaurants: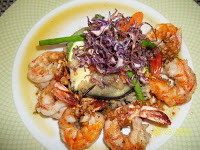 Shrimp entree from Danzante
1. The Market has an incredible buffet with indoor or outdoor seating that's like something out of a Hollywood movie. 
2. Casa Mia is casual Italian with hand tossed pizza close to the beach
3. Danzante is fine dining with a cigar bar. The house specialty is chocolate clams, but I had the shrimp. 

Room Service is available 24 hours/day from all 3 restaurants, and you can also get drinks and dessert at the firepits on the beach.


Entertainment: 
The beach, swimming, fishing, kayaking, stand up paddle boarding, karaoke, Mexican Fiestas and shows, tennis, hiking trails, and bird watching. Tours are available to local attractions such as San Javier Mission or the local islands.  And best of all: snorkeling right out in front of the resort. A golf course is in the works right out the front door. We spent most of our time in the pools or on the beach.


Spa:  
The Sabila Spa is first class. There is a full menu of services and is sure to be the highlight of any vacation. It's 39,000 square feet of luxury.


Exercise Facilities: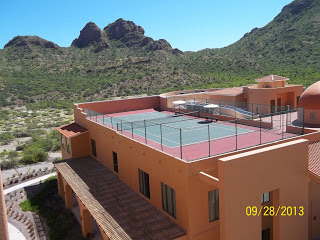 Rooftop tennis courts
Housed in the same grand building as the spa, with floor to ceiling windows looking out onto the mountains in the distance, made me want to work out longer!


Groceries and Sundries:  
The is a surprisingly large market with a good variety of necessities from  spirits, wine, mixers, sunscreen, swimsuits, chips and salsa, to ice cream, cookies, lunch meats, cheese, breads, and all sorts of condiments. And T-shirts for the grown kids back home. 


Getting there:  
There is a new airport in Loreto and Alaska Airlines flies from LAX to Loreto nonstop with complimentary beer and wine. The resort is 23 miles south. There is shuttle service available or one can rent a car from Alamo, Enterprise or other well known companies. 

Villa del Palmar Islands of Loreto has become my "Happy Place" on stressful days! I will be watching for rentals to come up on RedWeek!  (See more photos from this trip at RedWeek)

— 

The content and photos for this article were provided by Leah, a RedWeek member from a small town in North Idaho who hopes to soon retire and do much more travel writing!  Want to write for our blog too?  Leave a comment below and we'll get you the details.