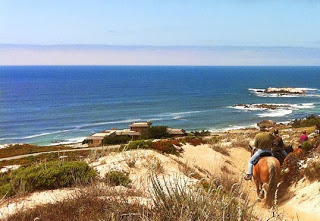 Carmel-by-the-Sea, often called Carmel, was founded in 1902. The picturesque seaside town is a feast for the eyes. Shutterbugs will enjoy snapping images of the coastline and architecture lovers will enjoy taking in the the Spanish-inspired sites. Stay in a Carmel timeshare and explore the top 5 things to do in Carmel, CA:
1. Go for a Stroll: Reserve a spot to go on a two-hour walking tour of Carmel-by-the-Sea. Explore secret pathways and courtyards, gorgeous gardens, and cottages straight out of fairtales. Be sure to wear good walking shoes and get ready to be a shutterbug as your guide introduces you to Doris Day's dog digs, the award winning Biblical Garden, and famous movie locations. Web: Carmel Walks. Location: Lincoln Street and Ocean Avenue, Carmel, CA.
2. Ride on the Beach: This is your chance to trot horses along Pebble Beach. The Pebble Beach Equestrian Center features 30 miles of hiking and equestrian trails that meander through the Del Monte Forest. Join in on one of the daily guided tours and ride a horse on sand. Choose from basic horseriding lessons to family forest rides and even group beach rides. Web: Pebble Beach Equestrian Center. Location: 3300 Portola Road, Pebble Beach, CA.
3. Head to the Sea: A visit to Point Lobos State Reserve will leave you with picturesque memories of California. A small fee gets you into the park and rangers are on hand with maps. Go visit the sea lions that dot bolders in the area. The park is a great place to ride a bike or enjoy a picnic. P.S. Don't forget your camera. Web: Point Lobos State Reserve. Location:Route 1, Box 62, Carmel, CA.
4. Discover the Mission: The architecuture of this mission founded in 1771 is a designer's dream. A visit to the Carmel Mission is a step back in history as it is the only mission in California with its original bell tower dome. Founder, Father Junípero Serra is buried under the alter. The mission offers self-guided tours as well as group tours. Insider Tip: Carmel Mission is an active parish. Web: Carmel Mission. Location: 3080 Rio Road, Carmel, CA.
5. Drive the Coast: This famous 17-mile drive glides past historic mansions, the Pebble Beach golf courses, and the well-known Spanish Bay. Get ready for dramatic ocean views as you pull in and out of scenic turn off points. Pack a lunch and enjoy the view from a picnic table and look for The Lone Cypress above the ocean perched there for over 250 years. Web: 17 Mile Drive. Location: 17 Mile Drive, Pebble Beach, CA (at Lighthouse Avenue).
Discover timeshares in Carmel, CA.
Photo Credit: Pebble Beach Equestrian Center