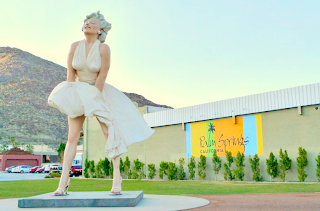 Palm Springs sits at the base of the San Jacinto Mountains and the city is lined with vacation- inviting palm trees that lightly sway in the desert breeze. Architecture lovers will have visions of Mad Men and history buffs will have visions of better days past. Stay in a Palm Springs timeshare and explore the top 5 things to do in Palm Springs, CA:
1. Go Mad Men Style: This modernist mecca tour showcases Mid-Century Modern architecture, a feast for design eyes. Your knowledgeable guide will take you on a journey through the 1920s to the 1970s. Discover the history of Palm Springs, learn about the architects, builders, and designers who developed in the area, and get lost in another time in history. Web: Palm Springs Modern Tours. Location: Palm Springs, CA; Call for reservations: 760-318-6118.
2. Take the Tram: Hop aboard the world's largest rotating tram! Your 10-minute trip takes you above the Chino Canyon and starts at Valley Station (elevation 2,643 ft.) and ends at Mountain Station (elevation 8,516 ft). Climate changes quickly here. At the top passengers enjoy hikes, or guided nature walks, and in the winter visitors enjoy cross-country skiing or snowshoeing. There's even a restaurant for those who would rather stay back and enjoy the breathtaking view from a table. Web: Palm Springs Aerial Tramway. Location: 1 Tram Way, Palm Springs, CA.
3. Explore a Living Desert: Palm Spring's Living Desert features an enchanting zoo and botanical garden situated on 1,200 protected acres. Visitors will enjoy strolling through the gardens and learning about unique desert inhabitants. There's even a model train exhibit for the conductor in your life. Web: Living Desert. Location: 47900 Portola Ave, Palm Desert, CA.
4. Discover Windmills: From the second you arrive in Palm Springs you will see 3,500-plus towering windmills along Interstate 10. These windmills generate one and half percent of California's electricity and they help power 200,000 homes. Take a camera and enjoy a guided (yet windy) tour of the Palm Spring windmills and learn how the city plans to generate even more energy in years to come. Web: Best of the Best Windmill Tour. Location: 15831 La Vida Dr, Palm Springs, CA.
5. Stand on a Fault: On the San Andreas Fault Tour you will learn about Palm Spring's geology and earthquakes as your guide travels with you to the center of the San Andres Fault in an exciting 4×4 adventure. Bring a camera as the landscape offers an interesting view of twisted and tormented land. Web: Desert Adventures San Andreas Fault Tour. Location: 74794 Lennon Pl, Palm Desert, CA.
Discover timeshares in Palm Springs, CA.
Photo Credit: CopyStrands