Sedona is a land long steeped in mysticism. Mysterious vortexes surround the area, and the famed red rocks themselves are said to hold healing powers. During this time of year – when the weather is just too cold and too bitter – it seems like we all could use a bit of healing. So, if a bit of reviving and rejuvenating is what you're after, let us show you some of the best resorts to kick off a week of healing and relaxation…
With its burnt-orange coloring and classic adobe facade, the Hyatt Pinon Pointe looks right at home nestled among Sedona's red rocks. Situated in the heart of downtown Sedona at Y-Intersection, guests have immediate access to explore the community. A traditional artist's community, there is no shortage of unique shopping, dining and sightseeing opportunities and the close proximity to this experience is no doubt one of Pinon Pointe's draws.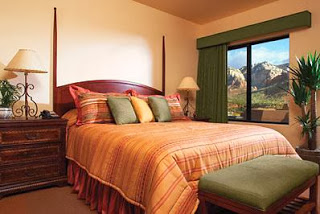 A bedroom at the Hyatt Pinon Pointe.
The resort is also undoubtedly amazing in its own right. Luxurious one and two-bedroom units are offered, outfitted with full kitchens, dining rooms, fireplaces and internet access. The rooms are decked out in warm earth tones that evoke the natural splendor of the region and do an excellent job of bringing the beauty of Sedona to every minute of your vacation.
There's certainly no shortage of fun to be had on property – Hyatt Pinon Pointe boasts a tennis court, playground, ping pong and pool tables, a fire pit and grills, a clubhouse just for kids, hot tubs, steam rooms and a heated pool that offers a gorgeous view of the Sedona backdrop. Perhaps the biggest draw is the Shops at Pinon Pointe located right on site. Independent boutiques and a handful of galleries make up the bulk of this cozy shopping center, and familiar dining options (Starbucks and Cold Stone Creamery!) as well as local affairs like Wildflower Bread Company and Sound Bites Grill keep you going all vacation long. 
Hidden away from all the hustle and bustle of Sedona proper is Diamond Resorts' Sedona Summit. Perched atop the plateau in the north of the town, this stunning resort overlooks the rest of city and offers an uncontested view of Sedona's mountains. Sedona Summit's primary draw lies in its proximity to the area's natural wonders – Rock Slide State Park is just a skip and a jump away, and hiking trails are yours for exploration almost right outside the resort's back door.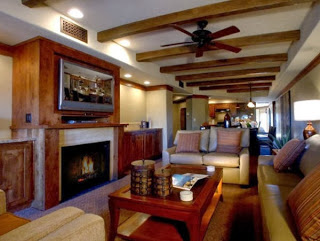 The living area of one of Sedona Summit's units.
Sedona Summit boasts gorgeously appointed studio, one-bedroom and two-bedroom units. Rooms come equipped with a full or partial kitchen (depending on unit size), television and DVD player and a magnificent fireplace the entire group will adore curling up to after a long day of exploring the area. The decor is deep and rich, employing wood tones and detailing to reinforce Sedona's reputation as an area of unparalleled natural beauty.
In addition to its proximity to the natural side of Sedona, Sedona Summit offers a number of on-site amenities to provide you with an unforgettable experience. The property boasts a total of four heated swimming pools and six hot tubs. There's a barbecue area and a fitness center, as well as a dedicated picnic area. There's no debate – Sedona Summit is the resort choice if you want to experience the quieter side of this legendary destination.
The Ridge on Sedona Golf Resort is tucked up against Sedona's famed mountain range and is ringed with an eighteen-hole golf course that would be any golfer's dream. And indeed, is there anywhere better to practice your game than underneath clear, blue skies with painted, red rocks looming in the background? Of course, The Ridge is far more than just a golf destination – it's an amazing resort in its own right!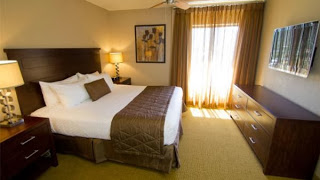 A bedroom at The Ridge on Sedona Golf Resort
Studio, one-bedroom and two-bedroom units are offered and include a full or partial kitchen (depending on unit size), a television and DVD player and either a patio, balcony or terrace to enjoy the view from the comfort of your own room. Much like Sedona Summit, The Ridge harnesses earthy browns and tans and clean lines that complement the red, mountainous backdrop.
The Ridge on Sedona Golf Resort also lies exceptionally close to the Village of Oak Creek, and is the first choice if you want to experience hiking, biking and horseback riding among trails split between Sedona and the Village of Oak Creek. The Village also offers some fantastic opportunities for fishermen, and you'll definitely want to hit the creek and pull in some impressive trout. Once your adventures for the day are concluded – whether golfing, hiking, fishing or just exploring – you have unlimited relaxation options back at your resort. Heated pools and hot tubs are scattered among the grounds, and afterwards, look forward to watching the sunset and stars from your balcony.
These are just a few of our favorite resorts in breathtaking Sedona, Arizona! We also encourage you to check out our Sedona Pinterest Board to pick up some ideas on the must-see and must-do attractions in the region!