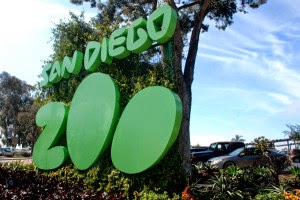 We've all been through the standard vacation activities – shopping, dining, beaches and theme parks. If you're looking to try something a little different this spring, why not take a trip to a zoo? We're not talking about your local neighborhood zoo… These are the biggest and the best, the tried-and-true family favorites. Springtime, especially, is perfect for zoogoing – not-too-warm and not-too-cold temperatures ensure the local critters will be at their most awake and spirited.
San Diego Zoo
Kicking off our list is a favorite of guests across the country – San Diego Zoo. At 100 acres and boasting over 3,700 animals in ten themed environments, San Diego Zoo certainly sets the bar high. There are plenty of unique experiences offered as well – six separate tours and eight different activities (including the Skyfari Aerial Tram and daily animal encounters!) will keep your visit fresh and exciting for the whole family. Admission is $46.00 for adults and $36.00 for children.
Where to stay:
Carlsbad resorts
are a moderate drive away from the San Diego Zoo and other San Diego attractions! 
Bronx Zoo
Bronx Zoo comes in at 256 acres and is undoubtedly America's largest urban zoo. Snow leopards, red pandas, Magellenic penguins and Nile crocodiles are just a few of the exotic residents of Bronx Zoo that add a touch of the wild to the big city. Don't forget to check out the attractions – a 4-D sensory movie theater and a Bug Carousel are sure to be hits with the kids. Admission is $33.95 for adults, $23.95 for children and $28.95 for seniors.
Where to stay:
Many
New York City resorts
 are situated in Manhattan, making for quick travel to Bronx Zoo.
Lowry Park Zoo
Tampa's Lowry Park brings the mystery of Florida's diverse ecosystems before guests' eyes. Florida panthers, American alligators, river otters and several stingray species capture the spirit of the region, while African, Asian and Australian-themed regions provide for a more exotic experience. Lowry Park's focus definitely lies in education and conservation, so be sure to check out one of the many shows and keeper talks, and kids will have a blast at one-day camps and workshops! Admission is $24.95 for adults, $19.95 for children and $22.95 for seniors.
Where to stay:
The Greater Tampa Area
is home to a wide array of resort options, although which you pick partly depends upon any other local attractions you might want to check out.
Audubon Zoo
Based in New Orleans, the Audubon Zoo transcends the standard zoo experience. With a mix of educational ventures, hands-on activity and the classic zoo experience, Audubon Zoo sines at offering a diverse mix of activities to appeal to any visitor. The Safari Simulator Ride and Audubon's Dinosaur Adventures lend an almost theme park-like vibe to this zoo, while attractions like Discovery Walk and Reptile Encounter bring you face-to-face with resident animals. Admission is $17.50 for adults, $12.00 for children and $13.00 for seniors.
Photo credit: http://timesofsandiego.com/life/2014/04/08/san-diego-tourism-trip-advisor-san-diego-ranks-in-top-10-of-u-s-tourism-spots/