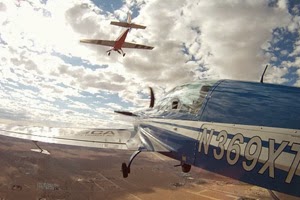 This Father's Day, forgo the tie and greeting card and give Dad something he really wants for Father's Day! A week away at one of these top dad-approved destinations will be sure to net you some
brownie points and cement memories as the very best Father's Day yet.
For the Adventurous Dad…
How about a trip to the state of
Wyoming
? Wyoming is all about the untamed wilds and majestic mountains, and nature-loving dads will feel right at home exploring Yellowstone or marveling at the Teton Range. After a long day of hiking, consider taking him for a relaxing soak at Hot Springs State Park – the natural springs are home to a free bath house for that's ideal for unwinding.
For the Foodie Dad…
Napa Valley, California
is the foodie dad's destination of choice! The Culinary Institute of America offers two to five day culinary "boot camp" classes in cooking styles ranging from grilling to pastry making. If he prefers the dining to creating his own dishes, there's not shortage of five-star restaurants in the area to sate any craving. And of course, what's Napa without stunning local wines to complement your meal!
For the Fisherman Dad…
It's basically a given that dads love fishing, and there's no better place to indulge that passion than the
Florida Keys
. There's fishing tournaments abound, and the unique environment of the Keys makes them ideal for all sorts of fishing methods. Flats, light tackle, deep sea, wreck, reef, harbor and bridge fishing are all practiced in the region. 
For the Sporty Dad…
Take a trip to
New York City
and surprise Dad with a tour of Yankee Stadium! Visitors have the choice between a classic group tour as well as the more exclusive gold and platinum pre-game tours that are held just before the game starts. For an extra fee, you can also add lunch or dinner to your tour at Hard Rock Cafe – the perfect cool atmosphere for a Father's Day meal!
For the Daredevil Dad…
Any dad with a wild side will have a blast in
Las Vegas, Nevada
! The glitzy nightlife and omnipresent energy are certainly a draw, but we recommend something a little more unique for the thrill-seeking dad – how about a ride in a fighter jet? Sky Combat Ace offers a multitude of packages for the aspiring pilot that will get adrenaline racing and crate memories that will last a lifetime.
Photo credit: http://www.skycombatace.com/SCA-Packages/sky-combat-experience.html