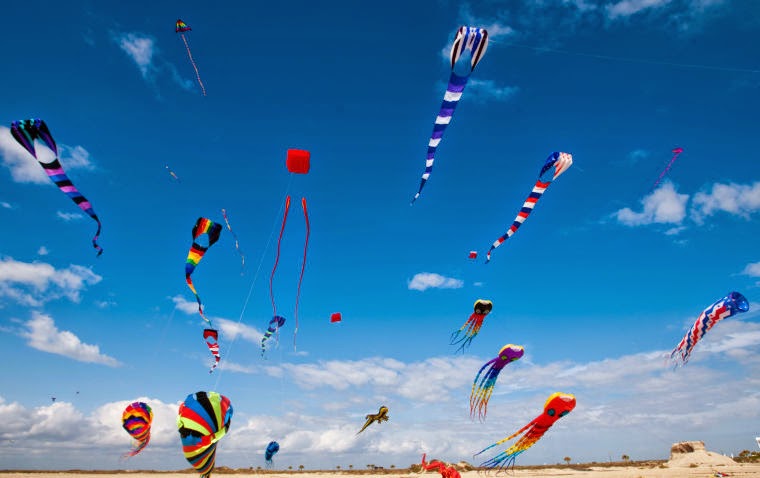 There are only a few things needed to fly a kite. A large open space with no obstructions, a steady wind, and your favorite kite. On your next timeshare rental take along a kite (or buy a kite in the area) and launch it from one of these kite perfect places:
1. Chrissy Field Center: There is a always a brisk breeze at Chrissy Field. Downtown San Francisco features this scenic park next to the bay where kite flyers love to set sail with views of the Golden Gate Bridge offering the perfect backdrop.
Web: Chrissy Field Center
Location: San Francisco, CA
2. Clearwater Beach: This gorgeous park is peppered with kites in the Sand Key area just far enough away from the bustling beach. There is also an active kite club plus kite stores in the area. Get ready to set sail. Web: Clearwater Beach
Location: Tampa Bay, FL
3. Wildwoods: The New Jersey Shore is where sport kiting was born and it's also home to the annual International Kite Festival. The sandy beaches at Wildwoods feature just the right amount of room to get a running start to fly your favorite kite.
Web: Wildwoods
Location: Wildwood, NJ
4. Long Beach Peninsula: Washington State is a kite flying mecca. The Long Beach Peninsula features the American Kite Flying Museum and several kite stores. Consistent breezes in the coastal area offer 28 miles of beach front to go fly a kite.
Web: Long Beach Peninsula
Location: Long Beach, WA
5. South Padre Island: Head down to this Gulf Coast beach and you will be treated to seasoned local kite fliers with years of flying experience. The wide beaches offer the perfect place to send a kite aloft at South Padre Island (pictured).
Web: South Padre Island
Location: South Padres Island, TX
Discover timeshares around the United States.
Photo Credit: The Monitor