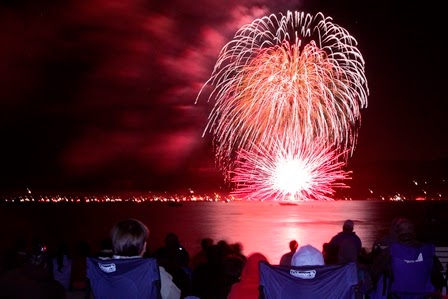 Fireworks over Lake Tahoe make for a gorgeous Labor Day
Summer always seems to come and go so quickly – August is already in sight, with September not too far behind! If you're looking to plan your Labor Day vacation, now is the time to get started. A traditional weekend for travel, Labor Day sets the country abuzz with festivals, activities and all sorts of family-oriented fun to go out of summer in style. Are you in need of some ideas? Let us help!
At Lake Tahoe's South Shore, things start to kick off on August 29th when the South Lake Tahoe Community Fair kicks off – carnival rides, craft booths, contests and fantastic garden displays ensure fun for everyone! Don't miss the opportunity to board one of South Shore's two Mississippi paddlewheeler boats and participate in the annual
Great Lake Tahoe Sternwheeler Race
 on August 30th. If you prefer more culinary and artistic pursuits, the 31st plays host to the fifth annual
Sample the Sierra
 festival. The region's best food and wine can be sampled here, while local goods (such as soap, honey and olive oil) as well as art, crafts and jewelry can be purchased. Wrap up your Labor Day experience with a
charter cruise
 to watch the
fireworks
over the lake!
From August 29th to the 31st, the
American Music Festival, presented by Chevrolet
 rocks the shoreline with artists such as Hunter Hayes, Train and Creedence Clearwater Revisited performing. If you're seeking a more active vacation, don't miss the opportunity to participate in the
Rock 'n' Roll Virginia Beach Half Marathon
 on August 31st. Options are diverse, ranging from an individual half-marathon to a two-person relay to a 5K, as well as a kick-off "Mile on the Sand" event on August 30th!
Miami has a reputation is an ideal party spot no matter what the day, and Labor Day is certainly no exception! Nikki Beach is home to the
Labor Day Endless Summer Party
 on both September 1st and 2nd. With live music, entertainment and a wide assortment of food and drinks right alongside the ocean – you'll truly feel as though summer might never end. For a truly luxuriant experience, snag tickets to
Rock the Yacht Labor Day Weekend Party Cruise
. There's plenty of food, drinks, fun and even a live DJ on board one of Miami's most luxurious mega-yachts. 
Utah boasts a rich mining heritage, and Labor Day is more typically referred to as Miner's Day. The celebration kicks off with a pancake breakfast at City Park, and then the
Funky 5K race
, and eve-quirky "Running of the Balls" contest, where participants can adopt a ball for $5 and watch as thousands are race down main street (with prizes for the winner of course!). Plenty more events pack the city, including a BBQ lunch, races and contests for kids, live music and a softball tournament!
Check back next Monday for our final four Labor Day picks to kick off your vacation planning!
Photo Credit: http://tahoesouth.com/events/details/6195/labor_
day_weekend_fireworks_extravaganza