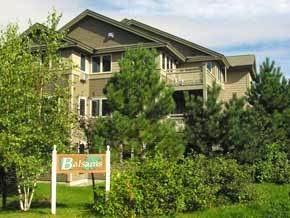 Vacationing in fall brings to mind brilliant autumn leaves, hikes in the crisp air with loved ones and sipping apple cider while snuggled up in front of the fireplace. If this is your idea of a perfect October vacation, then this month's Resort Spotlight will be right up your alley! With a picturesque location
and plenty of activities both onsite and in the area to satisfy the entire family, a trip to Smugglers' Notch Resort will be the best autumn trip yet!
Smugglers' Notch Resort is located in its namesake of Smugglers' Notch, Vermont. While the resort is often touted as a ski destination, the sheer beauty of Smugglers' Notch in the fall should not be overlooked. Tucked away in the Green Mountains, the resort boasts a beautiful view of the surrounding peaks as well as blazing fall foliage in these autumn months. Five separate "communities" make up the resort, each with a handful of studio to four-bedroom units. The particular room layouts are all given names to reflect the natural surroundings, such as Evergreen, Owls and Sycamores. 
Smugglers' Notch Resort isn't the most popular resort on RedWeek, but it does boast a healthy number of postings throughout the year, as well as quite a few prime rental weeks in the coming months. If you're on the hunt for a fall destination that embraces that warm and cozy "lodge-y" feel, you can't go wrong with Smugglers' Notch Resort!