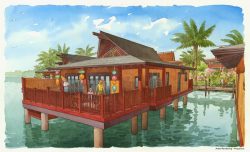 Artist's rendering of the new Bungalow accommodations.
Disney Vacation Club has quite the reputation in the realm of timeshares – and for good reason! These resorts are beloved by millions of vacationers and consistently rank among RedWeek members' favorite timeshare resorts. So, when Disney Vacation Club announces a new resort, it's big news! While rumored for a few months prior to official announcement, the notion of a new DVC resort in Walt Disney World had vacationers chomping at the bit – what would follow up the success of Disney's Bay Lake Tower in 2009?
The official announcement in September of 2013 had DVC owners elated. A portion of the ever-popular Polynesian Resort would be receiving a DVC renovation with an unannounced opening. Little else was known, but speculation was rampart nonetheless. Fast forward more than a year later, and just now most of the details have come to light, and the newly titled Disney's Polynesian Villas and Bungalows seeks to stand out.
In addition to the batch of existing Polynesian rooms that are being converted into DVC units, Disney is also testing the new Disney Vacation Club Bungalows. This concept borrows a page from the vacation home concept and allows travelers the full "home-away-from-home" – their own private bungalow instead of a sectioned-off room. These bungalows can sleep up to eight individuals, and sound undeniably lavish. The Polynesian's famed South Seas vibe resonates loud and clear, and touches like the private plunge pools and Seven Seas Lagoon view seek to elevate the experience. While only twenty bungalows are planned for opening, it's certainly possible that Disney will integrate the concept into future DVC developments if it proves to be a hit.
The bungalows aren't the only interesting concept to be we'll see upon opening. New Deluxe Studios will also make their debut. These units can connect to another Deluxe Studio and sleep five each, making it an affordable alternative to multiple bedroom units for large groups. The addition of a kitchenette and expanded storage help alleviate the crowded feeling that studios can run the risk of.
With the DVC developments also come a refreshment of the Polynesian's Great Ceremonial House, where guests will first experience the resort. We'll see updated and expanded pools on property, as well as new dining options. Pineapple Lanai will provide guests with the much-beloved Dole Whip treat, and Trader Sam's Grog Grotto will offer plenty of cocktails and Polynesian-themed appetizers and small plates.
There's still a bit of unclarity regarding the opening or sale of Disney's Polynesian Villas and Bungalows. All we know is that the doors are scheduled to open at some time during 2015, with many predicting spring. However, this is just speculation, and it's best to hear from Disney first. We recommend keeping an eye on the Disney Parks Blog for more information as it's released. Disney's Polynesian Villas and Bungalows is sure to delight both DVC owners and family vacationers come its much anticipated debut!
Photo Credit:  http://disneyparks.disney.go.com/blog/2014/12/new-details-announced-for-disneys-polynesian-villas-and-bungalows/