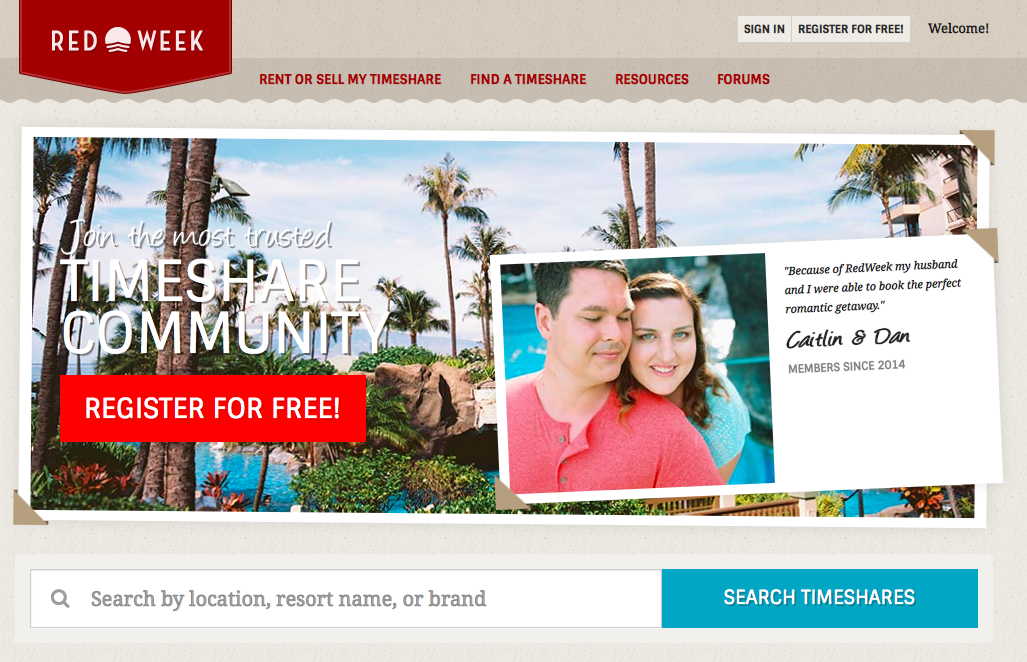 Have you had a chance to explore the new RedWeek yet? With a sleek new look and improved functionality, the RedWeek redesign is packed with changes that we're sure will make posting and searching for timeshares easier than ever.
One of the biggest changes is one you're bound to notice if you're browsing RedWeek on the go – mobile functionality! Whether you're viewing from your phone or tablet, the RedWeek site is perfectly adapted to fit your device. No more pinching and zooming, or scrolling sideways to read minuscule text. Vertical scrolling, slick menus and quick loading times ensure that mobile RedWeek is every bit as great as the "full site"!
You might also notice the improvements to our search features when looking for a timeshare. After you type in a general location (think city, state or country), you'll have the option to refine your search on the results page. You can choose to specify results only within a certain date range or price range. Additionally, you can refine by unit size, RedWeek user rating or even features – perfect if you're looking for just all-inclusive resorts, or just resorts with internet or a pool, for example! Your results can also be arranged into list or grid views and sorted by user rating.
If you commonly post your own timeshare for rent or sale; rejoice! Our posting creation process has been greatly streamlined. Instead of navigating page by page, your posting is created on a single page with clean, expandable menus guiding you through each step. Photos are easier than ever to upload; drag and drop or upload them in bulk, with the option to review and caption them before your posting goes live.
Certain major pages were brought out of their more obscure locations into the limelight. The Timeshare Companies page – a hotspot for those looking to buy or sell a points system – is no longer just tucked away on the resales page, but rather accessible directly under the "Find a Timeshare" tab near the top of the screen. There's no need to visit the account page in order to view your postings, either. The "My Postings" link at the top of the page (left of the RedWeek banner) will instantly take you to the page where you can view and edit your postings.
While not active yet, we also have some great community features planned in the coming months! If you encounter any bugs, issues or something that just doesn't seem to be working right, please let us know at support@redweek.com. We hope you're every bit as excited as we are to experience the new RedWeek.com!