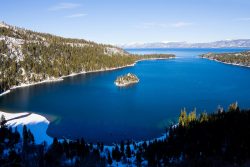 If you're looking for a destination that offers a bit of everything, look no further than Lake Tahoe. Whether you're looking for outdoor activities, water sports, a strong cultural scene, vibrant nightlife,  gourmet dining or just a beautiful retreat, Lake Tahoe is not easily beat. However, planning a trip does take a bit of research and some decisions. The first question on any Tahoe-seasoned traveler's lips will be "North Shore or South Shore?".
Lake Tahoe lies cleanly between California and Nevada, the state border running directly through the center of the lake. While both states have communities and resorts in North and South Shore, the North Shore is often considered the Californian side while South Shore is primarily associated with Nevada. Even though both halves of Lake Tahoe boast beautiful views and many of the same activities, the North and South Shores have taken on clear identities of their own. Knowing the differences between the two are paramount to having an enjoyable vacation that fits your needs.
The bigger communities in South Shore are South Lake Tahoe, Meyers, Stateline, Zephyr Cove, Emerald Bay, Kirkwood, Homewood, Tahoma and the Heavenly ski resort. Between the two sides, South Shore tends to be a bit more crowded and with a distinctly more "tourist-y" scene. For those looking for an exciting and action-packed vacation, South Shore offers much more to "do" – beyond the ski resorts and outdoors, there's countless opportunities for entertainment. Uniquely themed shops, restaurants and spas can be found in abundance. There's also far more of a nightlife along the southern shore – if you're looking to hit the bars, clubs or casinos after dark, than South Shore is definitely your go-to!
It's also worth mentioning that South Shore might be the ideal choice if you're vacationing without a car. Many major attractions are within walking distance of one another and shuttle service is available to many areas. The South Shore also tends to be a bit more popular with families – many of the ski resorts and casinos have licensed daycare services, allowing the adults to have some time on their own to experience all Tahoe has to offer.
North Shore exudes an entirely different vibe – one of relaxation and tranquility. Included along the North Shore are the communities of Tahoe City, Tahoe Vista, Kings Beach, Incline Village, Squaw Valley, Alpine Meadows, Northstar, Diamond Peak, the Mount Rose ski area, Truckee and Donner Lake. The focus here is not on constant excitement, but rather enjoying what nature has to offer. Tahoe's best skiing can be found on the North Shore, as well as the most beautiful nature trails. The relaxed atmosphere has led a different breed of business to flourish – North Shore is your destination if you're looking for upscale spas, gourmet dining, boutique shopping and museums.
Unlike South Shore – where most major communities are tightly packed and easily navigated – North shore is more open and near impossible to experience by solely foot. Sprawling communities with a woodsy and rustic ambiance are definitely beautiful, but best experienced if you have a car available. If the aim of your vacation is to get away from the fast-paced stress of everyday life and enjoy Tahoe on your own time, North Shore cannot be beat.
No matter which side you choose, you can look forward to the ski-prime 396 inches of annual snowfall and almost 300 days of sunshine. Of course, the two halves aren't mutually exclusive. If you have a car, jumping between them is easy and there is transportation available to take you to the other side. No matter whether North or South is your choice, Lake Tahoe is sure to be one of your most beautiful and memorable vacations yet!