Canadian tourism officials and timeshare HOAs are aggressively reaching out to US timeshare owners as the travel economy continues to grow worldwide. RedWeek just attended the Canadian Vacation Ownership Association (CVOA) annual conference to get a first-hand view of vacation ownership in the Great Lakes Blue Mountain region north of Toronto. Here's our report.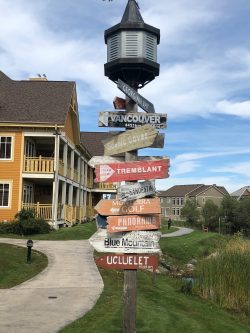 Go Now, Go Often for a Strong Dose of Canadian Hospitality
Despite its breadth, history, and absolute proximity to the US, Canada is largely unknown to many Americans. While Canadian travelers frequently tour the US and Mexico, Americans don't venture north nearly as often. In terms of timeshares, there are dozens of beautiful resorts in Canada, mostly clustered around the Vancouver-Whistler corridor in the West, or along the Niagara Falls-Toronto corridor in the East. There are also plenty of exchangeable timeshares in the picturesque Banff-Lake Louise area, but that's a virtual mountain island all unto itself — reachable by car or train, 97 miles from Calgary International Airport. Overall, Canada contains around 230 timeshare resorts, compared for 1,500 in the US. Only a handful of Canadian timeshares, meanwhile, are still engaged in active sales.
The timeshare basics in Canada are comparable to the rules and regulations in the US — reservations should be secured as far as possible in advance, particularly if you're exchanging a week through RCI, Interval, or any other exchange company. Members of timeshare clubs (such as Embarc, which is now owned by Diamond Resorts) can use their points or weeks for multiple-night stays at any resort in their network, or deposit them for an exchange.
There are a few Canadian timeshare rentals on RedWeek, mostly offering winter ski weeks or summer mountain vacations, and a similar number of resales, with prices ranging from $0 – $10,500. Maintenance fees, meanwhile, tend to be lower than US timeshares. In addition to using RedWeek, travelers can research Canadian timeshares through online travel agencies or exchange companies. RCI, for example, lists 109 Canadian timeshares in its resort directory.
With a few exceptions, Canada is not much of a vacation mecca for beachgoers who like Hawaii or the Caribbean. It's much more of an action-sport destination for folks who thrive on the outdoors, whether it's skiing, hiking, golf or canoeing. There are no Disney's or Orlando's in Canada, either.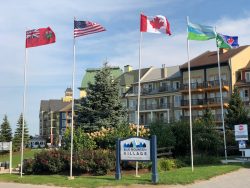 One visible difference: The brand-name companies that dominate the US timeshare landscape — Wyndham, Marriott, Vistana, Hyatt and Hilton — have low profiles in Canada. Wyndham has WorldMark, and Diamond has Embarc, but that's about it. Canada is full of independent timeshare resorts managed by homeowner associations that, typically, are fiercely protective of their independence. RedWeek interviewed one timeshare executive at the Canadian Vacation Ownership Association conference who said he worked very hard, after his company was bought by a US timeshare company, to preserve the culture and style of the original company. Owners demanded it, he said.
Canadian timeshare owners and HOAs are also subjected to the same resale-and-transfer scams that target vulnerable US timeshare owners. But the scale is smaller, and the CVOA is taking active steps to educate its members on the best ways to deflect resale scams and protect owners. (In the US, where exit companies spend huge sums on Internet and radio advertising, brand-name developers are aggressively suing companies for trying to interfere with customer contracts. That kind of legal warfare has not taken root in Canada yet.)
Timeshare Trends: Make the Experience Memorable
At the CVOA conference, industry executives outlined the trends that are redefining timeshare in Canada while companies ramp up their marketing to reach the largely untapped market of US travelers.
"As long as you're willing to evolve, your business will not become extinct," advised Duane Lee, CEO of Safeguard, a Toronto company that sells loyalty rewards packages to timeshare companies. He and several other speakers said that survival, in a highly competitive hospitality market, depends on staying relevant, adapting to change and, above all, selling the "experience" of vacations after travelers have checked in. That means giving them much more than an extra bedroom and kitchen. Creating memorable experiences, on-site or off, is the new buzz-phrase in timeshare. It's also what brings customers back and fuels word-of-mouth testimonials to new customers.
While trying to create unique experiences for owners, Independent timeshare resorts are also in an "eat or be eaten" mode from the competition and loyalty programs offered by major timeshare clubs, said Wendy Miron, a senior account executive for RCI in Whistler. "The independents are trying to find ways to be unique."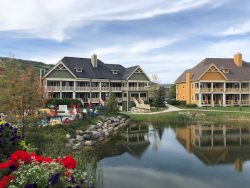 Here are two final selling points for using Canadian timeshares, one obvious and one not. #1: If you're in the US, you don't need to fly overseas to get there. Instead, save your airfare dollars and drive to your resort, since getting into Canada is relatively easy. All you need is a passport or passport card to get in or out of Canada. Or fly first to Vancouver or Toronto, then start your driving vacation from those terminal cities. Or take the scenic cross-Canadian Rockies Amtrak! #2: Current exchange rates in Canada favor US dollars by more than 20%, which makes travel in Canada, including timeshares, much cheaper than in the US.
There's a bit of unintended irony in the dollar vs. dollar story. While travel in Canada is more affordable than the US, most Canadians who buy timeshares spend their travel money in the US or Mexico.
"The Canadian vacation ownership industry is healthy," said Jon Zwickel, outgoing president of CVOA. "Many people still believe in the concept of vacation ownership, but they tend to be buying outside the country."
—
By Jeff Weir