The longest government shutdown in US history continues despite its negative impact on federal workers. Transportation Security Administration (TSA) agents are feeling the brunt of the political ordeal. As essential employees, they must report to work even when they aren't getting paid.
According to TSA, the agency reported a 7 percent rate of unscheduled absences on January 19, compared to a 3 percent rate one year ago on the same day. Employees assert financial limitations as their primary reason for not reporting to work.
With a lack of staffing at airports, what does this mean for your air travel plans? How should you prepare for your upcoming trip? Here are five helpful tips for traveling during the government shutdown.
1. Arrive Early
Normally, TSA suggests for air travel passengers to arrive at least 2 or 3 hours before the scheduled departure of their domestic and international flights, respectively. Because of the government shutdown, these time guidelines are critical for travelers to follow.
Airports are having to close multiple security lines due to the shortage of TSA agents. As a result, travelers are waiting up to 90 minutes to get through checkpoints.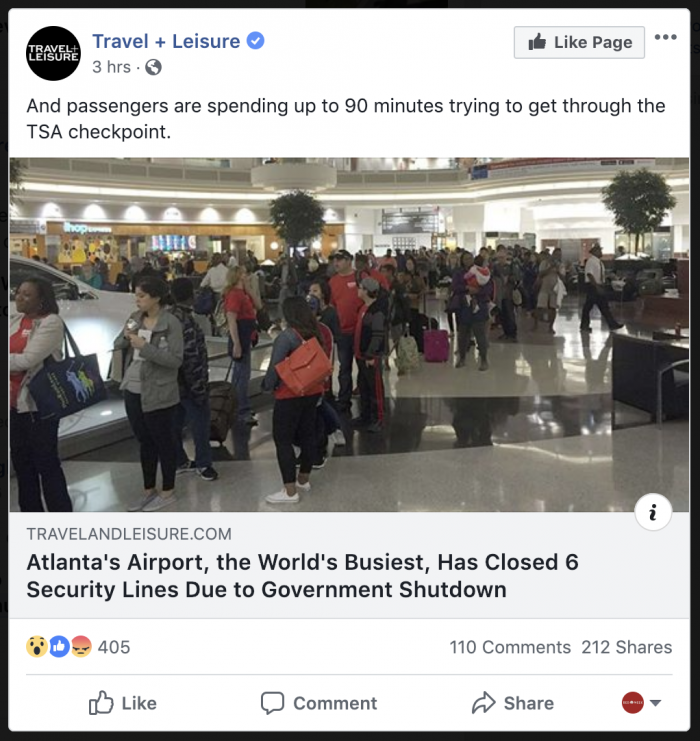 To avoid being late, start packing your luggage two days ahead of schedule, so you're not rushing the day of your flight departure.
Also, plan how you will get to the airport. Maybe you can use a rideshare service or have a friend bring you. If you're parking your vehicle at the airport, add extra time to your commute to find a parking space.
2. Follow Security Rules
Security continues to remain a top priority for TSA. The agency wants passengers to feel safe while they travel to their destinations.
TSA spokesperson Michael Bilello tweeted that "TSA will continue to carry out the mission to secure aviation. Security will not be compromised."
To ensure the safety of yourself and others, the agency provides the following recommendations when entering the standard screening lane:
Remove the 3-1-1 liquids bag and place it in the bin.

Ensure pockets are empty and remove bulky jewelry.

Remove your shoes and place them directly on the X-ray belt.

Remove personal electronic devices larger than a cell phone from your carry-on bag.
Please report any suspicious activity to local law enforcement, too. Adhering to these simple rules will make the security process run more efficiently.
3. Know the Latest Updates
Information is powerful during these hectic situations. By knowing the latest updates, you can effectively prepare your air travel plans and adjust them, if necessary.
Download the MyTSA App on your mobile device for the most frequently requested airport security information. You can check for delays and current weather conditions at your airport. You even can report wait times to help fellow travelers.
If you have security questions, you also can follow @AskTSA on Twitter. They promptly answer passengers' concerns.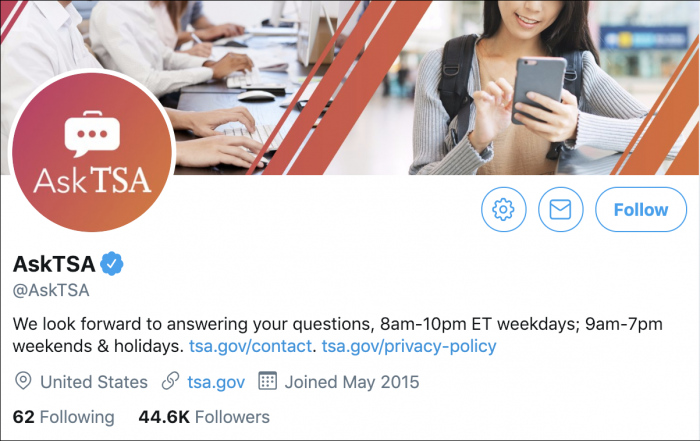 Don't forget to check the website of your specific airport. They can offer additional updates regarding terminal changes, unavailable services, or major traffic accidents nearby.
These friendly resources will improve your air travel experience. Keep the most recent information available throughout the government shutdown.
4. Wait Patiently
When arriving at the airport, prepare to wait in long lines. Wait times will vary depending on the particular airport and time of day.
Waiting in line and hunger isn't a good combination. So, bring your favorite snacks to eat while you wait. If you're traveling with kids, pack a few fun size snacks.
Entertain yourself while you wait. Listen to a couple of podcast episodes or spark up a conversation with a stranger. Bianca Bahamondes, an avid traveler and former radio producer, suggests reading a book:
"[Y]ou can easily kill waiting time by reading. If you don't have a book on hand, most public libraries will have e-books you can download online into your phone or computer."
Patience is the best remedy to long lines. Ease your stress and focus on something else.
5. Make Alternative Plans
You never anticipated a government shutdown when planning your vacation. Before packing your suitcase, it's best to map out your trip.
If your schedule is flexible, you may consider changing your flight to a later date. You also could ditch air travel, rent a car, and take a road trip to your destination. Amtrak offers unique traveling experiences as well.
You may need to amend your itinerary. If you planned to visit a federal park or national museum, it's probably closed until the government reopens.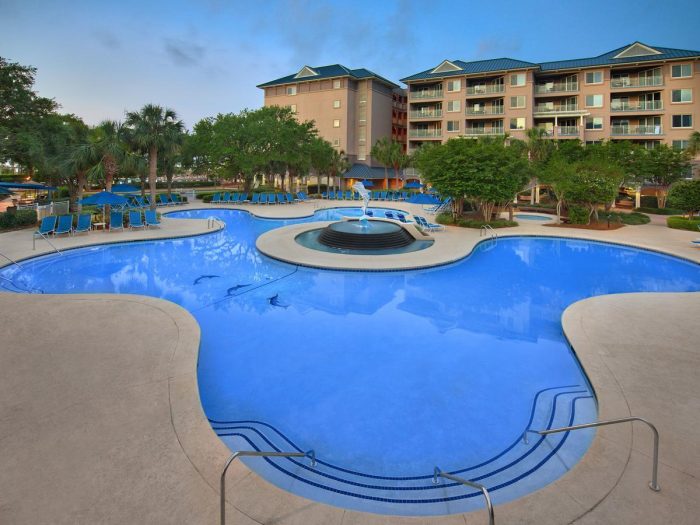 Staying at a resort? Choose to participate in activities at the location. For instance, the Marriott's Grande Ocean in Hilton Head Island, South Carolina, provides its guests with three outdoor pools, bocce ball, shuffleboard, nature trails, and a putting green.
Stay Prepared During Government Shutdown 2019
Traveling can be stressful when airports operate at full capacity. So, it's especially important for travelers to minimize any added inconveniences amid the government shutdown. From arriving early to checking for updates, you can successfully travel despite these unfortunate circumstances.
Are you planning your next vacation? Check out RedWeek's timeshare vacation rentals.