Many travelers worry about safety in various areas of Mexico. But when you look at the statistics, Mexico is actually safe to visit.
It's a beautiful country with exceptional beaches and cultural activities. The people are friendly and helpful. Timeshare resorts in Mexico offer exciting activities, wonderful amenities, and often private beaches.
Many of the same safety issues in Mexico are found in other countries as well. Travel to any country has both risks and rewards. So, is it safe to travel to Mexico?
Safer at the Resort
In Global News, Canadian police specialist Walter McKay said the majority of violence that happens in Mexico is outside the resorts. McKay, a policing expert on security issues, believes Mexico is as safe as it's ever been.
The government of Mexico has a vested interest in keeping the resorts safe. They do not want any problems at the resorts because tourism is Mexico's largest money maker.
Local, state, and federal authorities work together to maintain security and safety at resorts. As recent as April 15, 2019, the U.S. travel advisory had no travel restrictions to Quintana Roo state, which includes the popular destinations of Cancun, Cozumel, Playa del Carmen, Tulum, and Riviera Maya.
5 Tips to Stay Safe While Traveling in Mexico
1
.
Check advisories for your destination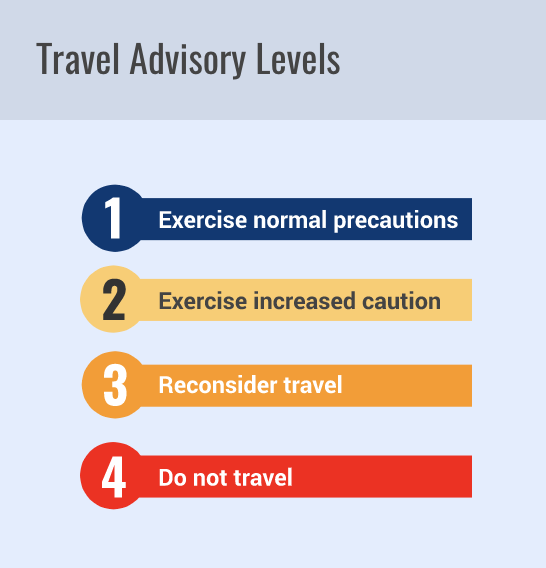 The U.S. State Department's objective is to protect and keep Americans safe while in other countries. Their travel warnings cover all safety issues and emphasize caution. Check out the Mexico Travel Advisory before planning your next vacation.
2. Check security at the resort
Find out how your timeshare resort handles security on site and the surrounding property. For example, ask the following questions:
Are security cameras present at the resort?

Do on-site security guards canvass the property?

Are security locks on each room's doors and windows?

Do you provide in-room safes?
3. Use common sense and be alert
Basic travel safety, regardless of your destination, means using common safety tips, such as covering ATM screens and keypads, not wearing expensive jewelry in public places, and traveling with companions at night in unknown areas.
Money belts hidden beneath your clothes are still a good place to keep local currency and credit cards. Plus, always leave a copy of your itinerary and phone numbers with a family member or friend at home.
4. Use safe transportation
Only use registered Mexican taxis (often the gold and maroon vehicles), resort transportation, or a cab service recommended by the resort. Visit only areas that are known to be safe.
5. Consult the concierge or manager
The concierge or resort manager will have your best interest. They are a good source of information on areas to avoid and additional tips for a safe stay.