Cozumel is an island and municipality in the Caribbean Sea off the eastern coast of Mexico's Yucatán Peninsula, opposite Playa del Carmen. Although part of Mexico, Cozumel is technically a Caribbean island. As such, it enjoys the warm water and weather the Caribbean sea has to offer.
We sat down with Lindsey Hunt, a frequent traveler to the islands off the coast of Mexico, to hear about her most recent trip to the area.  She provided us with heaps of insights about what a trip to this vacation hotspot looks like during this current phase of pandemic life: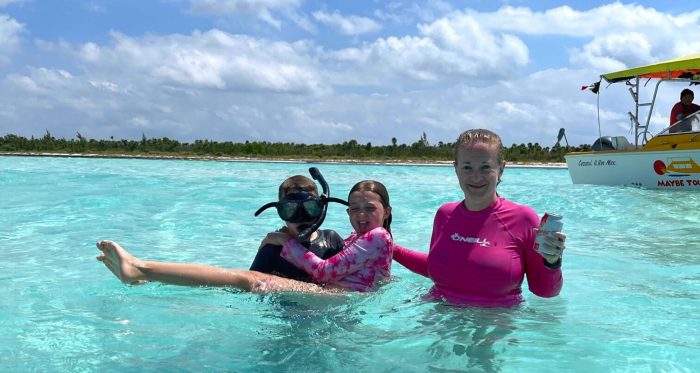 Q: So you have been traveling to Cozumel for years now and have most recently visited the islands twice within the last year, correct?
A: Yes. We went to Cozumel in July of 2020, and then we went again just this March. Prior to COVID I think the last trip we made was to Cancun for like eight days when my husband and I got married, but that was in 2019. We try to go with the kids about every six months if we can.
Q: Are you guys planning on going again before the year is out?
A: We'll go again, probably for Christmas break. We might try to go somewhere new, but it's just such a gorgeous place to go…I love the whole area, the snorkeling is great.
Q: Did you and your family get tested or vaccinated before your departure?
A: We did not have to get vaccinated, no. When we went, Mexico did not require anyone to have the vaccine, nor did they require us to be tested to enter the country.
Q: What was it like entering the country and dealing with COVID restrictions at your resort?
A: It wasn't that bad, honestly. We walked in and they had all of the thermal equipment set up for temperature checks, symptom checks, and sanitization. The resort we stayed at, Occidental Cozumel, was still at 50% occupancy requirements. That was actually what we liked best about traveling to Mexico during the pandemic; the lack of crowds!
Q: Tell us about your experience with getting tested to re-enter the U.S.
A: To come back to the U.S. you have to get tested, and the test has to be done within 72 hours of your departure. So, before you leave or upon arrival home. The hotel that we stayed at actually provided the services so they had a medical service come on site and they quickly set up a testing station. It was really fast and efficient, and so nice that we didn't have to go to the local hospital or anything to get tested. All in all, it was really easy even with the kids.
Q: Which airline did you fly with? 
A: We flew Delta into Cancun and then we took the ferry from Playa Del Carmen over to Cozumel. On the way home back to the states, we flew direct from Cozumel to Boise via American Airlines. That was nice, flying directly home.
Q: Would you recommend flying right now, based on your experience?
A: I mean, I think everyone's different. To us there was nothing different about flying other than you have to wear a mask. You just have to know what to expect. We did all this research and learned that certain airports didn't have a lot of restaurants or shops open where you can normally buy food. The airlines allowed guests to bring more pre-packaged dry goods on board to make up for the inconvenience. So, we stocked up on food in case we got to the airport and nothing was open. 
But, I should mention we flew first class on the way there and they gave us pre-packaged meals in flight. They really went above and beyond, we had our choice of curry boxes to a vegan hummus platter, etc. Honestly, it was a blast and didn't feel restrictive at all.
Q: Tell me about what COVID restrictions looked like at the resort?
A: I would say there was a huge difference between the resort we stayed in during COVID last summer, and the resort that we stayed in during COVID in March 2021. During this most recent trip, the adult pool and the hot tub were open, but there were no other services available. The spa and the gym were closed. They would only open one restaurant out of the five (on site) at a time to serve the entire resort. The bar was quite bare with limited drink options.
However, we found out later that the reason for all the lack of amenities was that this particular resort had to actually close from March to November 2020. So they went nearly nine months without any kind of income and only just began to reopen in December. So they were clearly in a worse position than other resorts may have been in the area. So that's not what people should expect at every resort, of course. Because the resort amenities were lacking, though, it kind of forced us to get out and explore the area and try new activities instead. We took tours and went snorkeling with the kids, it was so much fun.
Q: What were restrictions like on the island? Were restaurants and bars open, could you go shopping, etc?
A: Pretty much everything was open. All the restaurants were open, you just have to wear a mask when you're walking into the restaurant and then then once you're seated you can remove it. Most places were performing temperature checks at the entrances, and as you walked in you were required to step in this tray of solution to disinfect your shoes while simultaneously disinfecting your hands with sanitizer. They checked your temperature while you sanitized your hands and feet. But other than that we were able to dine out and go shopping with no issues at all.
Q: Were you satisfied with the cleanliness of your resort, and did you feel safe during your stay?
A: Everything was clean. I felt safe. I felt like I could always see that by the pool they would have staff come down every hour or so and wipe down all the lounge chairs and equipment. Every time we left a table or had a meal they had a whole team that would come in to clean it so I always felt like they were really diligent about keeping high-traffic service areas continuously clean. That's one of the reasons we like to book at a nice resort, you get all of those resort-quality services and cleanliness standards.
Q: After your trip, would you recommend traveling in general right now?
A: So, obviously there are two different schools of thought. There are those who are anxious to get back out and live life to the fullest, and those who are still really hesitant about resuming life in public settings. If you're in the latter group, then travel might be too stressful for you right now. After my family's experience, we think it's an amazing time to travel because everything is at such low capacity. I think this is the best time to go to places that are usually overcrowded (which is basically anywhere in the Caribbean or Mexico, at any time of the year). Obviously, as long as restrictions in your desired destination allow travel and your home country does as well (and assuming that you and your family are well enough and feel comfortable with the idea) then I think it's okay.
Ultimately, everyone is going to feel different about travel for a while and there's nothing wrong with that.
Also, I would say that if you are not afraid to travel right now, then you definitely should take advantage of the travel deals that are circulating right now. We saved so much money on our airfare and even our all-inclusive resort was way cheaper than it has been in years past.
All in all, we had a great time and will probably go again before the end of 2021.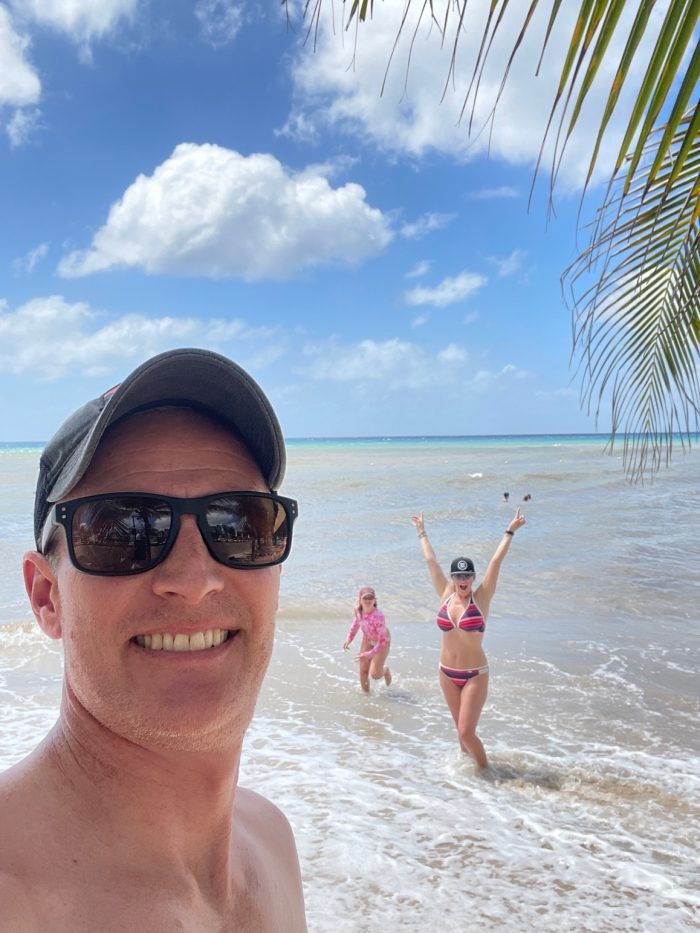 Start planning your own Caribbean vacation!
If you have recently traveled through RedWeek.com and would be interested in being featured in an interview like this, please email codi@redweek.com