Sustainable travel isn't just a trend anymore. A recent Virtuoso study revealed that travelers are becoming more and more aware of their impact on the destinations they visit; 82 percent of respondents said that the pandemic made them want to travel more responsibly in future years. Accordingly, the hospitality industry is upping its sustainability game. As you start planning your next getaway, discover four of the best eco-friendly timeshares for your next vacation.

Aruba: Divi Village Golf and Beach Resort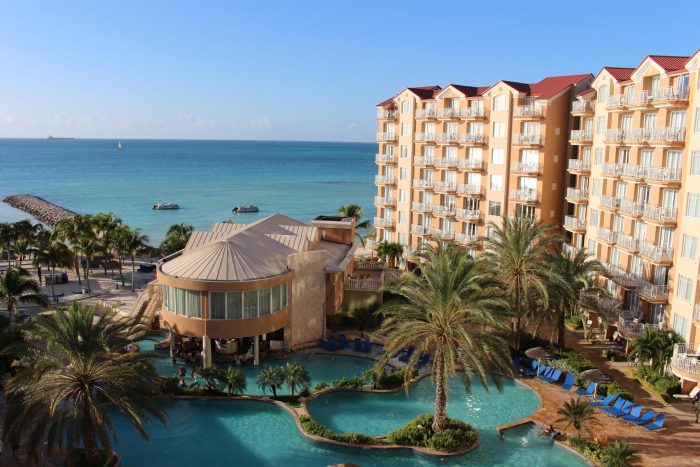 The Resort: Located on one-and-a-half miles of private beach, this luxury Aruba resort is an ideal spot to unwind and recharge. Divi Village Golf and Beach Resort is all-inclusive, so that means you'll be able to spend your days windsurfing, kayaking, trying your luck on a rock wall, cooling off by the freshwater pool, or enjoying one 10 dining options (not to mention unlimited beverages at eight cocktail-centric bars) for no added cost. And as you may have guessed, Divi is home to one of Aruba's best golf courses, a scenic 9-hole experience offering play over water and lagoons. For added indulgence, book one of the resort's Oceanfront Suites, just steps from the sand. 

The Sustainability: Recognized in 2020 as a Gold Winner of the Travel Weekly Magellan Award for Overall-Eco-Friendly "Green" Resort/Hotel, Divi Village promotes six different eco-conscious initiatives throughout the property. Water conservation and energy management (including using 100 percent energy saving light bulbs) are at the forefront, ensuring that the resort delivers an environmentally responsible experience for guests. 

Hawaii: Wyndham Royal Sea Cliff

The Resort: Just one and a half miles from the charming village of Kailua-Kona, Wyndham Royal Sea Cliff is an idyllic destination on the "Big Island" of Hawaii. Tranquility is the name of the game here. Kick back on the expansive pool deck, overlooking a black lava rock beach, or take a refreshing dip in one of two outdoor pools. You can also take a deep dive into authentic Hawaiian culture with on-site lei making, hula lessons and Hawaiian story telling. When you're in the mood for adventure, take a nearby guided tour to the top of Hawaii — Mauna Kea Summit, which climbs 14,000 feet above sea level. 

The Sustainability: Certified by the Green Key Global Eco-Rating, Wyndham Royal Sea Cliff takes sustainability seriously. Initiatives include such wide-ranging practices as reducing energy and water consumption, in addition to taking part in local community programs that promote environmental education. 

Ridgedale, MO: Big Cedar Wilderness Club

The Resort: Nestled in the heart of the Ozark Mountains, Big Cedar Wilderness Club is a Midwest escape that the entire family will love. The resort's atmosphere is one of rustic elegance, offering immersion in the Great Outdoors (without sacrificing modern comforts). Overlooking the 43,000-acre Table Rock Lake, Big Cedar is the launchpad for all kinds of adventures, from some of Missouri's best fishing to Top of the Rock Lost Canyon and Nature Trail where you'll soak in views of spectacular rock formations. A sunset from up here is one you'll never forget. 

The Sustainability: Since its founding in 1987, Big Cedar Wilderness Club has been dedicated to restoring (and preserving) the natural landscape that surrounds it. Its eco-friendly efforts include everything from wildlife and habitat management to a linen reuse program. Big Cedar has even worked to create its own soil for use in its sustainable gardens, where many ingredients for the resort's restaurants are harvested. 

Myrtle Beach, SC: Wyndham Ocean Boulevard

The Resort: Set right upon a gorgeous stretch of Myrtle Beach, Wyndham Ocean Boulevard is your homebase for enjoying the South Carolina coast. Myrtle Beach's legendary golf courses await, designed by such world-famous architects as Arnold Palmer, Jack Nicklaus, Robert Trent Jones. Get out on the water on an educational and entertaining dolphin watch jet ski tour or take a banana boat ride, reaching speeds of up to 45 mph. Slow things down back at Wyndham Ocean Boulevard, you'll find a lazy river and eight hot tubs, as well as the Sea Breeze Café, an eatery with comfort food and a laid-back ambiance.  
The Sustainability: Wyndham Ocean Boulevard is the recipient of the Platinum RCI® Green Award — the highest honor in RCI's well-respected Green Award program​. Among its many eco-friendly practices, the resort features LED lighting in its parking garage and picnic area, variable-frequency drives on its pools, lazy rivers and parking garage exhaust fans, and an energy-management system in all tower units to turn off HVAC systems when the balcony door is open.