At long last, Hawaii has reopened to travelers, which means it's time to start planning that island getaway you've been dreaming of. But which Hawaiian island (and which Hawaii timeshare) is right for you? Each one offers gorgeous beaches, exciting eco-adventures, and unexpected treasures, but also a unique charisma that makes each one a perennial favorite for different reasons. Get the basics below and start planning — and remember that RedWeek.com's by-owner prices are often lower-than-resort prices. A visit to paradise doesn't have to break the bank … 
Before You Go: Beginning July 8, 2021, anyone coming from the U.S. mainland who's been fully vaccinated can now travel to Hawaii without having to take a COVID 19 test or quarantine. Check out all the up-to-date info on current Hawaii travel requirements. 
The Big Island: Hawaii Island 
Who's it For? Outdoor enthusiasts with a special interest in the raw power of nature.
The Basics 
They don't call it the Big Island for nothing. Hawaii Island is massive — big enough to fit all the other islands combined. The landscape is extremely diverse; in fact, it contains a whopping 10 of the earth's 14 microclimates, from tropical to arid. The Big Island is the only remaining volcanically active island in the state — Hawai'i Volcanoes National Park includes one of the earth's most active volcanoes, Kileaua. Hawaii Island is also renowned for its stargazing opportunities, with the Mauna Kea Visitor Center offering an awe-inspiring glimpse into the heavens.
The Beach
Set on the southeastern Kau coast of the Big Island, Punaluu Black Sand Beach is renowned for its jet-black shores, which you must see (and feel beneath your toes) to believe. The sand's color stems from basaltic lava that cooled rapidly when it hit the ocean — years of waves have pulverized them into a fine grain. As you relax on Punaluu, keep an eye out for Hawaiian green sea turtles!
The Hidden Gem
Inaccessible by car, Kealakekua Bay is a natural wonderland that is popular with scuba divers and snorkelers. If you're lucky, you might encounter spinner dolphins, manta rays, and schools of brilliantly colored tropical fish. You can also visit the Captain Cook Monument, which commemorates the famed explorer. 
The Timeshare
Marriott's Waikoloa Ocean Club offers everything you're looking for in a Big Island vacation rental: spacious one- and two-bedroom suites, three swimming pools, and a location overlooking beautiful Anaehoomalu Bay. At all times, guests will be just moments away from Waikoloa Village and Waikoloa Beach. 
Pristine Beauty: Kauai 
Who's it for? Anyone who prizes scenic beauty and seclusion over everything else.
The Basics 
Kauai (pronounced "cow-ah-ee") is nicknamed the Garden Island. And once you're here, you'll know why. The pristine natural beauty — lush tropical rainforests, shimmering waterfalls, craggy cliffs — is positively breathtaking. For an immersion in this paradise-like setting, spend a day exploring the 45 miles of hiking trails in Kokee State Park, where you'll see dazzling wildflowers and an array of Hawaiian forest birds, some of which are among the rarest species of bird on earth. 
The Beach
Located on Kauai's south shore, the crescent shaped Poipu Beach Park is a classic Hawaiian stretch of sand. The crystal-clear waters here are perfect for snorkeling, and there's a natural wading pool, making it a great beach for families. This is one of the few beaches on Kauai with reliably gentle surf, too, which is good for beginner boogie boarders. Keep your eye out for Hawaiian monk seals year-round and humpback whales December through April. 
The Hidden Gem 
If you're a fan of Lilo & Stitch, take a trip to Hanapepe, their Kauai hometown. In addition to a big mural celebrating the animated Disney duo, you'll also find an extremely charming village, filled with great local art galleries and restaurants. 
The Timeshare
Just steps from Poipu Beach Park, Marriott's Waiohai Beach Club is an ideal Kauai timeshare resort option. In addition to easy beach access, you'll enjoy two-bedroom / two-bath villas, two outdoor pools, and tasty eats at The Kiawe Grill. 
Urban Exploration: Oahu
Who's it For? Those seeking big city amenities and the convenience of direct flight options from the mainland U.S.
The Basics
Oahu (pronounced "oh-ah-hoo") has all the beaches and scenery that you expect from a Hawaiian island. But it's also the island that appeals the most to travelers looking for a slightly more urban experience. Home to the state capitol of Honolulu, you'll find all kinds of cultural and historic stimulation here, including the stirring Pearl Harbor National Memorial, the sprawling Honolulu Museum of Art, and Iolani Palace, the only official state residence of royalty in the U.S. 
The Beach
You can't visit Oahu without spending a little quality time on Waikiki Beach, one of the world's most iconic beaches. Spanning two miles on the island's south shore, Waikiki attracts more than 4 million visitors annually. But once you've found your spot, the swaying palm trees and blue waters will make you feel like you're on your own private island. 
The Hidden Gem
If you're a taco lover, don't miss a meal at North Shore Tacos in Hau'ula, a no-frills joint with the freshest fish tacos you'll ever taste. Save room for dessert: the delicious coconut caramel flan is a local favorite. 
The Timeshare
Settle into one of Marriott's Ko Olina Beach Club villas, each one decorated with authentic Hawaiian flair. Located in Kapolei on Oahu's gorgeous western shore, this lavish timeshare resort features three outdoor swimming pools, a tranquil on-site spa, and a lovely beach that's always within reach. 
Eco-Adventures: Maui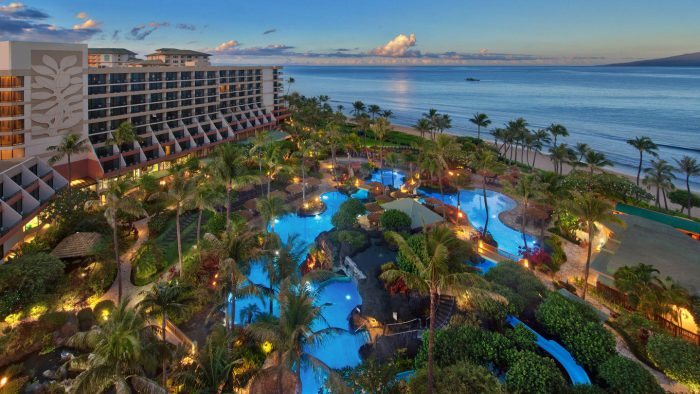 Who's It For? People seeking a mash-up of all the islands in one place: volcanoes, unspoiled nature, nightlife and shopping. It's all packed in to this one island.
The Basics
Whether on land or in the water, Maui (pronounced "mah-wee") is an eco-adventurer's dream come true. Zipline high above a jungle canopy, getting a bird's-eye view of the dormant but spectacular Haleakala volcano. Dive beneath the waves to discover an entire aquatic world, teeming with life (or visit the Maui Ocean Center, The Aquarium of Hawaii, which features the largest tropical reef aquarium in the Western Hemisphere — and doesn't require a scuba tank). Drive through the lush, tropical rainforests of Maui on the legendary Road to Hana, with stop-offs to visit breathtaking waterfalls and natural swimming holes. 
The Beach
Maui has 120 miles of coastline, so your beach options are many. But don't miss Makena Beach State Park, also known as "The Big Beach." One of the largest undeveloped beaches in Maui, it's ideal for swimming, fishing, and snorkeling. 
The Hidden Gem
'Iao Valley State Park offers 4,000 acres of Maui grandeur, with an impossibly lush landscape available to explore via a variety of hiking trails. The park's highlight is undoubtedly the incredible Kuka'emoku (also known as the ʻIao Needle), a lava monument that rises 1,200 feet above the ground. 
The Timeshare
Westin Ka'anapali Ocean Resort Villas delivers ultimate relaxation after your Maui adventures. Immerse yourself in Hawaiian wellness at the 10,000 square-foot Spa Helani by Westin Heavenly Spa. Enjoy a cocktail while unwinding beside one of several lagoon-style pools. Retire to your one- or two-bedroom villa — and start planning your next big day in Maui. 

Hawaii's resorts might be sold out through their own websites — but not through RedWeek's by-owner rentals. Start planning your Hawaii vacation now!