Poke, Manapua, Malasada … how well do you know your Hawaiian food? The destination is a foodie's delight, blending influences from Japan, Polynesia, the U.S. and beyond into a culinary style that is utterly unique. Before your trip to your favorite Hawaiian resort, learn about the destination's best cuisine — and get some tips on where to try these delicious delicacies.
Poke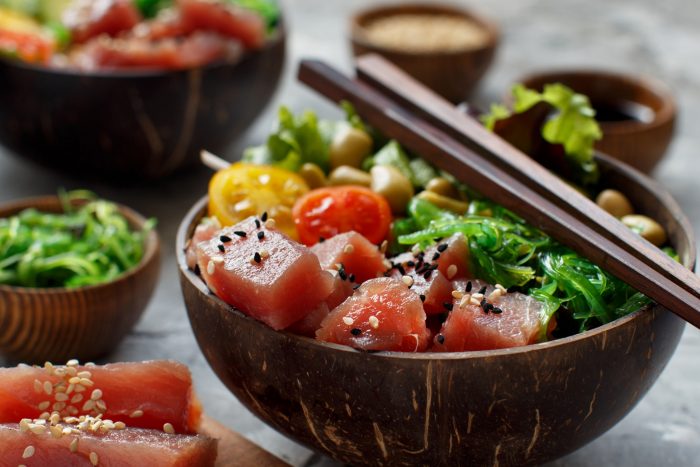 A longtime staple of the Hawaiian diet, poke (pronounced poh-KAY) is raw fish that's been diced, marinated with soy sauce and sesame oil, and mixed with onion. That's the simple version. When you're in Hawaii, you'll have a myriad of options, with local chefs finding new ways to incorporate unique ingredients and unexpected flavors, serving the dish as both and appetizer and a main course. The most popular way to enjoy this classic Hawaiian treat is in a poke bowl, often mixed with kale, edamame, jalapeno, cucumber, avocado, and kimchee. Tasty — and healthy, too!
Poi
Made from the root of the Taro plant, Poi is one of the bedrocks of Hawaiian cuisine. Hawaiian poi is purple and pudding-like, sold everywhere from food trucks to supermarkets throughout the state. It's eaten in a variety of ways — sprinkled with sugar or with smoked fish. Legend has it that Taro contains the spirit of Haloa, the very first Hawaiian. As a result, when Poi is served all family conflicts must come to a halt, in order to honor Haloa. A good way to end arguments among your group while you're on vacation! 
Spam Musubi
Fun Hawaii fact: the destination has the highest per capita consumption of Spam in the United States. The luncheon meat's popularity in Hawaii stretches back to World War II, when GIs stationed in the state were served Spam constantly. Over the decades, chefs have incorporated Spam into a variety of dishes — including Spam Musubi. This local favorite snack is simple, tasty, and portable, consisting of spam, rice, and nori (a dried edible seaweed). 
Manapua
Barbecue pork buns — Hawaiian-style. A very tasty island snack, Manapua (pronounced man-a-poo-a) is like the Chinese steamed pork buns (AKA char siu bao) you may have enjoyed at dim sum palaces. The Hawaiian version is bigger, fluffier, often a little sweeter, and sometimes baked instead of steamed. Back in the old days, "Manapua men" would sell these buns on the street (and some still exist!), but now you can easily grab them from bakeries or supermarkets. 
Shave Ice 
If you could condense the feeling of Hawaii into one frozen dessert, it'd be Shave Ice. Just ask former President Barack Obama, who makes a point to enjoy a little Shave Ice every time he visits the state. This summery treat has deep roots in Hawaii, first arriving with Japanese immigrants in the 1800s. It's similar to a snow cone, but instead of crushed ice, Shave Ice is made with (you guessed it) finely shaved ice, which is then mixed with your choice of colorful fruit flavors and sugar. 
Huli Huli Chicken
"Huli" translates to "turn" in Hawaiian. And turning is how this beloved Hawaiian dish is made, by grilling chicken between two racks and turning halfway through cooking. It's basically the Hawaiian version of rotisserie chicken. But the secret to its unique flavor is the teriyaki-style sauce that the chicken is marinated in — a perfect mix of pineapple juice, soy sauce, brown sugar and spices. Huli Huli Chicken is tender, juicy, and guaranteed to have your fam fighting over leftovers. 
Malasadas
During your island vacation, don't miss trying Malasadas — a Hawaiian donut, essentially. This fried-dough concoction came from Portugal, but it's extremely popular in Hawaii. Dusted with sugar, deep-fried, and sometimes filled with a creamy pudding, they're a local passion, with every resident having a favorite Malasada spot. The religious holiday of Fat Tuesday — Mardi Gras — Malasadas are consumed by the thousands.