If you're the type of person whose love for traveling is matched only by your love for food — this one's for you. One of the best ways to experience a destination is to sample its cuisine, so we've put together a guide to some of the best fall food destinations. Start planning a culinary escape now.  
Discover South Carolina's Lowcountry Cuisine In Hilton Head Island
If you've yet to experience South Carolina's incredible Lowcountry cuisine, you're in for a treat. Bringing together African, Southern, Caribbean, and Cajun influences, Lowcountry chefs take advantage of the seafood bounty found in the waters off South Carolina's coast, resulting in a style of cooking that's unbelievably fresh and flavorful. During your Hilton Head Island getaway, make sure to try such tasty dishes as Hoppin' John (AKA Carolina peas and rice), Shrimp and Grits, Crab Cake and so much more. 
Where To Eat in Hilton Head Island: If you're traveling with kids, Skull Creek Dockside is perfect, offering some of Hilton Head's best Shrimp and Grits, spectacular ocean views, and a playground for the little ones. Meanwhile, Hudson's Seafood House on The Docks is one of the destination's most famous restaurants. Since 1967, it has been serving fresh-off-the-boat seafood; for the ultimate, order the Lowcountry Boil, with steamed local shell-on shrimp, smoked sausage, corn, potatoes, and OLD BAY® seasoning. If you're visiting in September, spend some time at the Hilton Head Food & Wine Festival, an annual celebration of South Carolina's very best culinary offerings.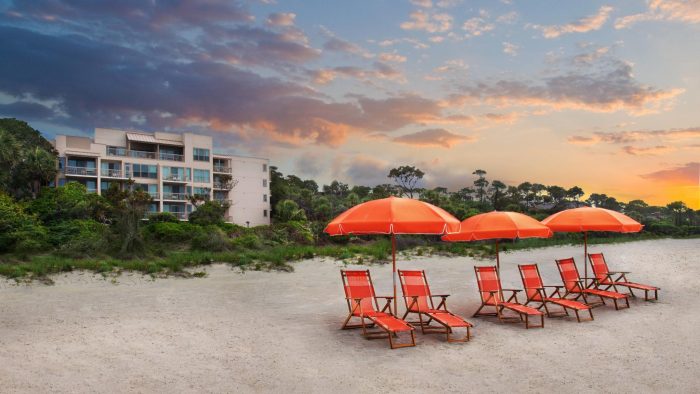 Where To Stay: Relax on six acres of oceanfront Hilton Head beauty at Marriot's Monarch at Sea Pines. This resort's sophisticated amenities, spacious villas, and prized location make it an ideal home away from home. 
Go Beyond The Glitz In Las Vegas
You may not think of Las Vegas as a foodie destination. But lurking beneath the neon-lit surfaces is a thriving cuisine scene. You just have to know where to look! Whether you're looking to enjoy food from world-famous chefs or dig in at mom-and-pop joints, a Las Vegas vacation can be as delicious as it is glitzy. 
Where To Eat In Las Vegas: For some star power-fueled dining, try Gordon Ramsay Hell's Kitchen, where the Top Chef judge / Michelin-starred chef brings his patented brand of world cuisine to life. If you're in the mood for something a little more laid back, try Las Vegas' 18B Arts' District, home to such unique eateries as Jammyland Cocktail Bar and Jamaican Chicken, the oh-so-hip Makers & Finders, and the Brooklyn-style pizza spot, Good Pie. Finally, Vegas' Chinatown is the city's best-kept secret, with dozens of fantastic restaurants, including the extremely spicy, extremely wonderful Chengdu Taste. 
Where To Stay: Set right on the Las Vegas Strip, Marriott's Grand Chateau is close enough to all the action, but offers an escape from the excitement when you need it, with expansive one-, two-, and three-bedroom villas with kitchens and comfy living spaces. 
A Desert Oasis In Palm Springs, California
Located in the heart of California's Sonoran Desert, the luxurious enclave of Palm Springs delivers a diverse selection of culinary options for the foodie. From old-school steakhouses that you can imagine Sinatra and his Rat Pack enjoying to innovative farm-to-table bistros to classic Mexican food, it's a destination where you'll discover something new and fresh around every corner. 
Where To Eat In Palm Springs: If you're in the mood for Mexican, go straight to Las Casueles Terraza, a family-owned restaurant with great traditional recipes, plenty of outdoor seating, and a huge selection of tequila. For exceptional eats and people-watching, Lulu California Bistro can't be beat, with extensive vegan/vegetarian options, and a killer weekend brunch. For classic NYC vibes in the desert, try Sherman's Deli & Bistro, a no-frills joint offering bagels & lox, pastrami on rye sandwiches, patty melts, and much more. And don't skip Village Fest, Palm Springs' Thursday night street fair, with music, food trucks, and an array of great local vendors.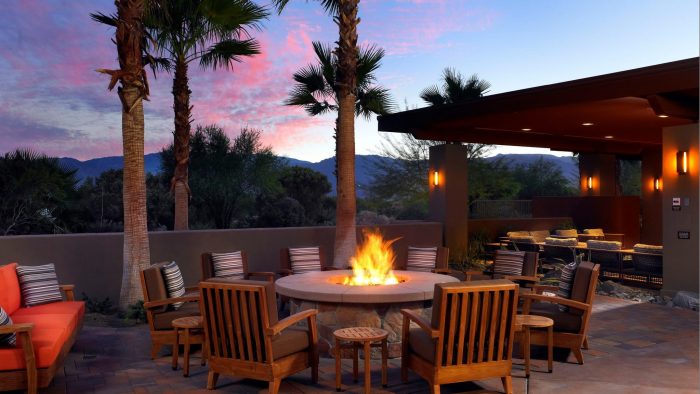 Where To Stay: A relaxing desert retreat, Westin Desert Willow is a refreshing place to linger, with three outdoor pools and easy access to the highly regarded Mountain View Golf Course. 
Enjoy Fresh-Caught Seafood In Playa del Carmen 
You'll find the expected tacos, burritos, and enchiladas during your Playa del Carmen vacation. But don't forget to sample some of the superb seafood that this coastal Riviera Maya destination has to offer, with fresh catches coming in daily, and expert chefs mixing traditional techniques with global flavors. 
Where To Eat In Playa del Carmen: It's always a good idea to go where the locals go — and Playa del Carmen residents love Los Hijas de la Tostada, located on the famed 5th Avenue (La Quinta Avenida). The seafood tostada here is legendary for good reason. Meanwhile, Taco Paco is well-known as the very best place to get fish tacos in Playa del Carmen. Try the coconut shrimp tacos for something truly out of this world. 

Where To Stay:Grand Luxxe Riviera Maya lives up to its luxurious name, with palatial suites, lush rainforest-like landscaping, and easy access to a secluded beach set on the Caribbean Sea. Foodies, don't skip the resort's Salum Beachside Eateries and Market, with traditional Riviera Mayan food and refreshments.