Few Disney resorts are as popular among families as Disney's Animal Kingdom Lodge, and for obvious reasons. This vacation club is teeming with jungle-themed excitement, sophisticated 4.8 star amenities, and the ultimate draw: live animals that wander the resort for guests to admire from their balconies!
The decision to visit this adventurous vacation spot is a no-brainer, especially for animal lovers. The tricky part is deciding whether to stay at Jambo House or Kidani Village. Both sections of the resort offer access to largely the same nearby amenities, though each has its own specific accommodation style unique to the other.
Here, we will break down the most notable differences between Jambo and Kidani, and give you some helpful tips as you plan for your stay at either resort:
Jambo House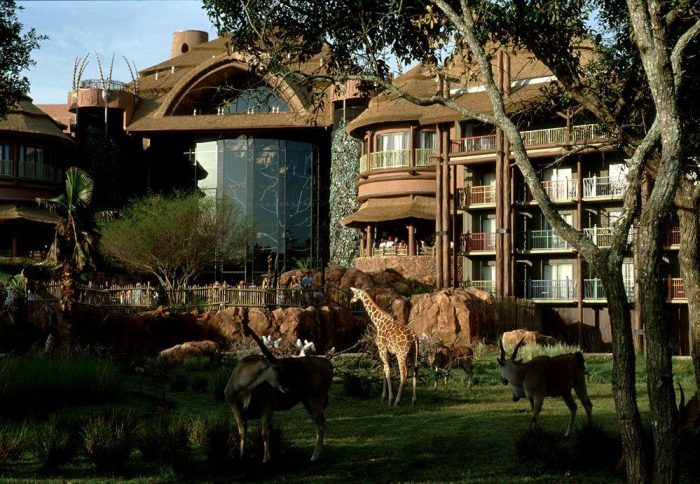 Many Disney fans are of the opinion that Jambo House is the original Animal Kingdom Villas, as the resort opened in 2001 & the Disney Vacation Club rooms premiered in 2007. This makes it a good choice for first-time visitors to experience the resort as it was originally intended, and take part in much of the Animal Kingdom Lodge action. The resort is filled with African art throughout and walking through the lobby is an adventure in and of itself.
Rooms & Views
If you're looking to get the best savings on your booking, the Disney Vacation Club rooms are located on the 5th & 6th floors of the resort, which makes for stunning views. The rooms in Jambo House are a bit smaller than Kidani Village, but the restaurants' over-the-top theming make it a completely elevated experience.
There are gorgeous paths at the rear of the resort where visitors can walk through to see the critters of the Arusha Savanna, which takes up the entire back of Disney's Animal Kingdom Lodge. They often have Cast Members out to talk about the animals and it can make for an adventurous day with the family!
When staying in Jambo House, the Uzima Savanna can be seen from the Kudu Trail and Zebra trails of the resort (facing the Northeast). There is also an outdoor walking path on that side of the resort to get a closer look at the flamingos and other wildlife that reside in the area.
Resort Amenities
The Uzima Springs pool at Jambo House is a fantastic place to just chill with a drink when you don't feel like going in to the parks. It has two hot tubs and a large zero-entry pool with a 67-foot long water slide.
You can order from The Mara at the Uzima Pool Bar if you'd like to have lunch by the pool.
Guests can get a workout in at the Zahanati Massage and Fitness center where spa services are also offered.
Jambo House is home to two fantastic table service restaurants: Jiko, which is more of an upscale dining experience with excellent food, and Boma, which is a buffet filled with African themed dishes (but many kid friendly choices too).
Victoria Falls Lounge is a popular spot to have a drink and dine on amazing African-inspired appetizers.
There is also a quick service restaurant called The Mara, which serves sandwiches, flatbreads, African dishes, grab & go salads, snacks & drinks.
As far as activities offered, Jambo House has movies under the stars night, Pumbaa's Fun & Games Arcade and the Hakuna Matata playground.
Jambo also has a campfire available to guests on select evenings.
Kidani Village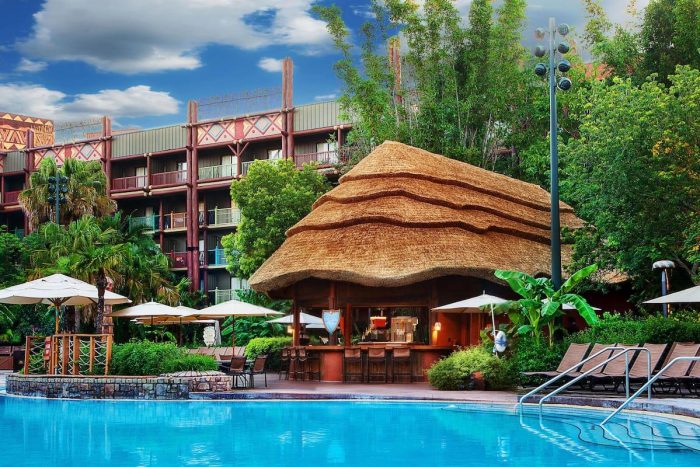 Kidani Village opened in May of 2009 and offers a truly unique vacation. Upon arrival, the biggest difference compared to Jambo House is that the lobby has a much more tranquil and slow pace, which some families prefer. Kidani certainly does not have the "Wow Factor" that Jambo House does, and is intended to be more of a relaxing resort experience.
Rooms & Views
As all Kidani's units are equipped with cooking facilities and bigger rooms than Jambo House, this resort is more well-suited for families who intend to spend more time in their room and may even wish to cook some of their own meals. All of the units in Kidani Village are Disney Vacation Club and they offer standard and Savanna views.
Resort Amenities
Sanaa is the only table service restaurant at Kidani Village, which offers views of the Sunset Savanna and serves African dishes with an Indian theme.
The Sanaa Lounge is also available for cocktails, a good selection of wines from Africa and a small number of appetizers.
Kidani also has a pool bar that serves food. The Maji pool bar serves up sandwiches and snacks that can be eaten in the pool area or taken back to the room.
Kidani boasts the Satawami Springs pool, which is zero entry and has a 128 foot waterslide.
Uwanja Camo is another feature unique to Kidani, which is a water playground with separate areas for different age groups.
Kidani offers a campfire on select nights.
Guests of the resort can use the basketball & tennis courts, pool tables, Survival of the Fittest Fitness Center and Community Hall that offers Ping Pong,Video Games, Arts & Crafts, Kid's books and you can even borrow tennis racquets and grilling tools.
Transportation to theme parks from both resorts is by bus and both resorts offer ATMs, complimentary Wifi, spa services and theme park merchandise pick-up & delivery.
Start planning your perfect Disney World vacation with RedWeek now.