If you're in search of a Caribbean vacation destination this spring, don't miss out on sun-drenched St. Thomas. The island combines everything you're looking for in a tropical escape (40 beaches, endless eco-tourism, and plenty of luxury) with a rich history that stretches back centuries. Even better, since it's part of the U.S. Virgin Islands, U.S. citizens don't need a passport to travel to St. Thomas. Check out RedWeek's St. Thomas travel guide below, including the best beaches, adventures, duty-free shopping, and restaurants — just what you need when you're comfortable traveling again. 
The Best St. Thomas Beaches
Magens Bay Beach
This is St. Thomas' signature beach – and one of the most picturesque sandy spots in the entire Caribbean. As a result, it's also the island's most popular beach. But don't worry, there's always plenty of room for everyone to stretch out. Protected by a heart-shaped bay with sparkling waters, Magens Bay Beach is popular for fishing, snorkeling, and relaxing. 
Sapphire Beach 
As its name suggests, this is a gem of a beach. If you're looking for some aquatic adventures, Sapphire won't disappoint, with a water sports booth that lets you rent all the gear you need, from kayaks to wind surfing boards. 
Coki Point Beach
Cozy Coki Point (just "Coki" to locals) is another great St. Thomas beach option. With calm, crystal clear waters, it's great for beginner snorkelers or just swimming. Keep an eye out for colorful tropical fish floating just beneath the surface.  
Outdoor Adventure, Cultural Attractions, & Ecotourism In St. Thomas
Coral World Ocean Park
Located near Coki Point, you'll find one of the Caribbean's finest marine attraction. Coral World Ocean Park is a journey into an underwater wonderland, where you'll be able to have up-close encounters with some of the sea's most incredible creatures, including dolphins, seals, stingrays, and sharks. 
St. Thomas Skyride
Go high above St. Thomas on the Skyride to Paradise Point. This fun tram takes you 700 feet above sea level to Paradise Point, where you'll enjoy spectacular, panoramic views of the island, as well as great shopping, dining, and cocktails. 
The Pirate Treasure Museum
Get to know the real pirates of the Caribbean. Way back in the seafaring days, St. Thomas was a popular spot for pirates. The Pirate Treasure Museum gathers a wide range of artifacts from that era — many of which were recovered from shipwrecks just a few miles off St. Thomas. 
Shopping In St. Thomas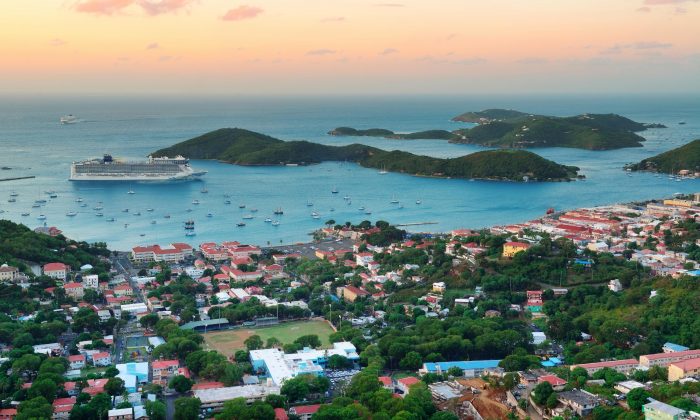 Charlotte Amalie (Dronningens Gade or Main Street)
St. Thomas is well-known for its duty-free shopping options — duty-free allowance is double the $800 limit from other islands. So, you should take advantage with a shopping spree in Charlotte Amalie. On the city's main street, you'll find all kinds of shops and boutiques, selling jewelry, handcrafted goods, and stylish apparel. 
Vendor's Plaza
Also in Charlotte Amalie, Vendor's Plaza is ideal for picking up that one-of-a-kind St. Thomas souvenir you've been looking for. Here, you'll find more than 60 friendly vendors selling unique, often locally made items, from sparkling jewelry to tropical print clothing. 
Havensight Shopping Mall
Located on St. Thomas' cruise ship dock, Havensight Shopping Mall is another great spot for browsing and buying. Head over to Caribbean Surf Co. to pick up your beach gear, offering everything from swimwear to sunglasses. 
Where To Eat In St. Thomas
The Old Stone Farmhouse
Located in a 200-year-old, restored plantation field house overlooking the lush countryside of St. Thomas, The Old Stone Farmhouse is the perfect place for a romantic St. Thomas date night or a family celebration. Led by award-winning chef Justin Werle, the menu mixes fine dining classics with innovative technique. 
Cravin' Crabs
You can't visit St. Thomas without enjoying some of the island's freshly caught seafood. And Cravin' Crabs in Charlotte Amalie is one of the best places to do just that. If you're traveling with a large group, order the 12 Lbs Seafood Platter, filled with perfectly prepared crab, lobster, shrimp and more. 
Bleuwater
Located within the Ritz-Carlton, St. Thomas, Bleuwater is a modern, sophisticated restaurant with impeccable service, a curated wine list, and delicious cuisine. It also boasts lovely bay views, giving your meal an ideal visual accompaniment. 
Where To Stay In St. Thomas
Marriott's Frenchman Cove
Overlooking the waters of Pacquereau Bay, Marriott's Frenchman's Cove is a breathtaking St. Thomas resort. Guests have easy access to a secluded beach and will enjoy such amenities as an infinity pool, a poolside restaurant, and spacious villas. 
The Ritz-Carlton Club, St. Thomas
Let the ladies and gentlemen of the Ritz-Carlton, St. Thomas take care of every detail during your vacation. The recipient of a recent multi-million-dollar renovation, it's the ultimate in Caribbean luxury, with a European spa, fine dining at the Great Bay Grill, and even a catamaran available for sails. 
Wyndham Elysian Beach Resort
Situated on the eastern end of St. Thomas, the palm-shaded Wyndham Elysian Beach Resort is an island enclave with its own lovely stretch of sand and the opportunity to enjoy an array of water sports, from scuba diving to paddle boarding.