Boasting 60 miles of beautiful South Carolina coastline, Myrtle Beach provides a welcome alternative to the classic warm weather vacation. Here, you'll find extraordinary outdoor adventure on both land and water, world-class golf courses, an unbeatable seafood scene, and a host of immersive cultural experiences. In other words, it's time to discover Myrtle Beach. We've got tips for enjoying the very best of the destination below.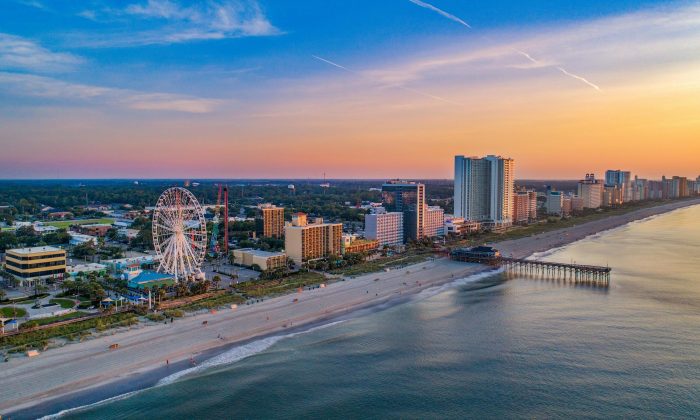 The Great Outdoors In Myrtle Beach
Beaches: No surprise — Myrtle Beach's main attractions are its six beaches. Which one you choose depends on what you're in the mood for. North Myrtle Beach and Myrtle Beach are usually lively and bustling, but with plenty of room in which to spread out your towel or hit the waves. Surfside Beach, meanwhile, is a favorite amongst families, with gentle waters and copious sandcastle-making materials. And the laid-back shores of Garden City Beach and Litchfield Beach are good for those who prefer a little seclusion with their sun and sand.
Golf: Another Myrtle Beach draw is the opportunity to play on some of the U.S.'s finest golf courses, with links designed by such legends as Robert Trent Jones, Jack Nicklaus, and Arnold Palmer. Dunes Golf and Beach Club, a Trent Jones masterpiece, is as scenic as it is challenging, with 18 holes wrapping around lush Carolina greenery. The Waterloo hole here is known — and feared — by golfers worldwide. Tidewater Golf Club is another great option, set high atop a peninsula overlooking the Atlantic Ocean. It's the kind of course that harmonizes perfectly with the natural landscape; after you play it, you might just want to walk around to enjoy its pristine beauty. 
Dolphin Cruises: You're going to want to get out on the water while you're in Myrtle Beach. And while you're at it, you're going to want to see some of the friendly Atlantic Bottlenose Dolphins who frequent the Carolina coast. Voyager Dolphin Cruise Trips virtually guarantee an up-close-and-personal encounter with these wonderful marine mammals. Keep an eye out for sharks, too! 
Historic & Cultural Experiences In Myrtle Beach
Brookgreen Gardens: Named one of the top gardens in the U.S., Brookgreen Gardens features the largest and most comprehensive collection of American figurative sculpture in the country, most of them located in a lovely outdoor setting. Take some time to explore this one-of-a-kind Myrtle Beach must-see, where every path leads to a new treasure. 
Sandy Island: Blending outdoor adventure with rich African American heritage, Sandy Island offers an immersion in the unique Gullah Geechee culture, whose time-honored traditions have shaped the state's Lowcountry for more than 200 years. Accessible by boat, the island is home to 50 descendants of enslaved Africans who keep those traditions alive today. Sandy Island is also great for birders, with opportunities to spot screech owls, great blue herons, swallowtail kites, endangered red-cockaded woodpeckers, and more. 
Franklin G. Burroughs – Simeon B. Chapin Art Museum: Located in a converted beach house from the 1920s, this Myrtle Beach art museum is one of the best cultural experiences in the Carolinas. Here, you'll find local art and historic maps, plus an ever-changing series of exhibits highlighting artistic creativity from the past 100 years and beyond. The museum also hosts a great KidsArt program, with Saturday Art Adventures for ages 5 – 12. 
Where To Eat In Myrtle Beach
Rockefeller's Raw Bar: For an authentic Myrtle Beach seafood experience, go straight to Rockefeller's. It's all here: crawfish, scallops, mussels, oysters, crab legs, shrimp, tuna, lobster, and more. Settle back into one the restaurant's captain's chairs and prepare for a culinary adventure. 
Angelo's Steak & Pasta: The sign outside Angelo's boldly proclaims: "THE GREATEST STEAKS IN THE UNIVERSE," which might seem like hyperbole at first. But once you've tried them, you might be inclined to agree. No frills — just perfectly cut and aged steaks, seasoned and served on a hot, sizzling platter. If you're still hungry afterwards, there's also an all-you-can-eat pasta buffet. 
Big Mike's Soul Food: Southern comfort food is the name of the game at Big Mike's. This Myrtle Beach favorite serves up big helpings of fried chicken, collard greens, fried fish, corn bread, and more. You'll also want to save room for Big Mike's delectable peach cobbler. 
Where To Stay In Myrtle Beach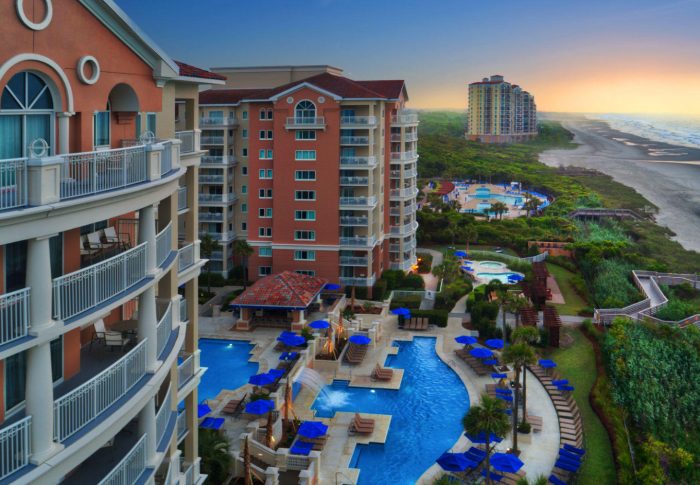 Marriott's OceanWatch Villas at Grande Dunes: A favorite among families due to the beautiful scenery and charming atmosphere, Marriott's OceanWatch Villas are located in the exclusive Grande Dunes master-planned community. The best part? You're always just steps from the beach. 
Wyndham SeaWatch Plantation: Named a recipient of TripAdvisor's Certificate of Excellence Award, Wyndham SeaWatch is also located beachside, and boasts its very own private boardwalk. The resort also offers six oceanfront pools and two lengthy lazy rivers.