You don't have to travel to an international destination for an extraordinary island vacation. From the coast of South Carolina to quaint spots in New England, there are plenty of island options waiting in our own backyard. Start planning your getaway with RedWeek now. 
Hilton Head Island, South Carolina
The Island: Known as "America's favorite island," Hilton Head Island offers an idyllic family vacation, with more than 12 miles of beaches, extensive bike and nature trails, and several acclaimed golf courses. The destination is also packed with plenty of by-sea experiences, including deep-sea fishing excursions and kayaking expeditions. And, as you might expect, the seafood in Hilton Head is as fresh and delicious as can be. 
Hilton Head Travel Tip: Make sure to set aside some time to sample some Lowcountry cuisine while you're in Hilton Head. This authentic southern cooking style brings together a host of international influences to create truly unique flavors. 
Hilton Head Island Timeshare Resorts
Marco Island, Florida
The Island: Ideally situated on Florida's dazzling Gulf Coast, Marco Island provides a more laid-back alternative to the more party-driven Sunshine State beach vacation destinations. It's a place where on-the-water adventures beckon, whether you're in the mood for standup paddle boarding, snorkeling or dolphin cruises. Marco Island also puts on nightly natural fireworks shows — the sunsets here are of the "gotta-see-them-to-believe-them" variety. 
Marco Island Travel Tip: The city of Naples is just a short drive away from Marco Island, offering a luxurious enclave with fine dining, terrific arts and culture offerings and a charming downtown. 
Marco Island Timeshare Resorts
Block Island, Rhode Island
The Island: Famously, the state of Rhode Island is not actually an island. But Block Island fits the bill. Just a quick ferry ride from the mainland, it's another world — one filled with pristine white-sand beaches, historic lighthouses and scenic bluffs. The destination is also renowned for its seafood, with fresh-caught lobster being a much-sought-after specialty. 
Block Island Travel Tip: Pack your walking shoes. There are more than 28 miles of trails throughout Block Island, which take hikers from the vistas of Clay Head to the lush greenery of Rodman's Hollow.  
Block Island Timeshare Resorts
Nantucket, Massachusetts
The Island: Another great northeastern island option, Nantucket is steeped in maritime history — there's a reason that Moby-Dick begins here. Today, you can wander cobblestone streets, visit still-active fishing wharves and learn about the island's deep heritage at The Whaling Museum. Nantucket also boasts 82 miles of gorgeous, untouched coastline, which those in search of scenery and seclusion will love. 
Nantucket Travel Tip: Two-wheel exploration is big on Nantucket, with three well-maintained bike trails that take you across the entire island. 
St. John, U.S. Virgin Islands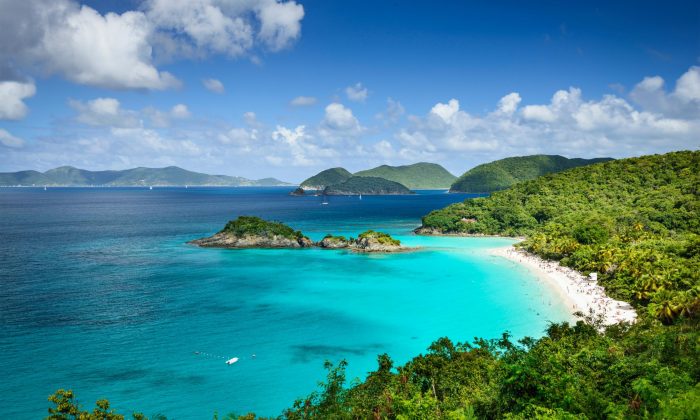 The Island: A Caribbean vacation with no passport required! The smallest of the U.S. Virgin Islands, St. John is packed from end to end with eco-adventures, spectacular tropical scenery and a unique cuisine. And of course, the beaches on St. John are among the best in the world, offering all the sun and sand you've been dreaming about. 
St. John Travel Tip: Cinnamon Bay Nature Loop comes highly recommended for those looking for a great (but not too strenuous) hike. Blending history with outdoor exploration, it leads to the remains of an ancient sugar plantation built back in 1777. Find more St. John travel tips. 
Maui, Hawaii
The Island: You can't talk about islands in the U.S. without mentioning Hawaii. With legendary beaches, teeming rainforests and tasty Hawaiian cuisine, Maui is the definition of a tropical paradise. Take a drive on the famed Road To Hana for a road trip experience you'll never forget, with stunning waterfalls, amazing wildlife and classic roadside fruit stands. Or, take to the water for some of the very best scuba and snorkeling in the world. 
Maui Travel Tip: Don't miss one of Hawaii's best golf experiences — the award-winning Wailea Golf Club. The three championship courses are challenge-filled, but don't worry if you don't make that hole-in-one. The ocean views here will more than make up for it. Find more Maui travel tips.