You may think you know the Midwest — but these destinations deliver surprises and delights at every turn. From magnificent natural scenery to luxurious Ozarks enclaves, this region in the U.S. is fun, affordable and unique. We've gathered a few under-the-radar Midwest travel options for you to consider when you're planning your next timeshare resort vacation with RedWeek. 
Best-Kept Secret: Sheridan, Illinois
The Destination: They call Sheridan "the best kept secret in Illinois" for good reason. Located just 90 minutes from Chicago, this charming Midwest destination is an extremely family friendly vacation choice. The centerpiece is Starved Rock State Park, where you'll find gorgeous waterfalls, picturesque hiking trails and spectacular wildlife viewing opportunities — keep your eye out for bald eagles! Nearby Ottawa, Illinois, is also a must-visit, with a quaint downtown lined with cafes, boutiques and restaurants. 
Travel Tip: For those in search of on-the-water adventure, the Illinois Fox River Chain O'Lakes offers boating, swimming, tubing, waterskiing and standup paddle boarding. 
Where To Stay: Located on the shores of Fox River, Holiday Inn Club Vacations Fox River Resort is relaxing and exciting in equal measure, with the 31,000-square-foot Pirate's Cay Indoor Water Park, a nine-hole par-3 golf course and a seven-acre stocked lake for fishing fun. 
Big Top Fun: Baraboo, Wisconsin
The Destination: With a population of just under 12,000, Baraboo is the very definition of a charming small town. But spend a little time here and you'll see that this Wisconsin destination is very unique. For one thing, Baraboo is steeped in circus history; none other than the Ringling Brothers were born in the town, and that heritage is celebrated at the Circus World Museum and the Big Top Parade, held every June. Baraboo is also home to the newly reimagined International Crane Foundation, one of the best places in the U.S to view the endangered crane species. 
Travel Tip: Don't miss the nearby Devils Lake State Park, Wisconsin's most popular natural attraction, with towering quartzite bluffs, lakeshore picnic areas and plenty of backcountry hiking trails. 
Where To Stay: Your ideal Baraboo home away from home, Wyndham Vacation Resorts at Glacier Canyon features lavish presidential suites, easy access to three indoor water parks and the championship Glacier Canyon Golf Course. 
Lakefront Life: Boyne Falls, Michigan
The Destination: Located alongside Lake Charlevoix — named one of the best lakes in the U.S. by USA Today — the cozy village of Boyne Falls attracts visitors year-round. In the summer, sailboats catch gentle breezes and golfers enjoy some of the best fairways in the Midwest. In the winter, the area transforms into a snow sports lover's dream come true, thanks to the 415 skiable acres available on Boyne Mountain. Whenever you visit, Boyne Falls is a picture-perfect vacation destination. 
Travel Tip: For a little exercise, hike the 2.2-mile trail in the expansive Avalanche Preserve Recreation Area. Your efforts will be rewarded with some truly breathtaking panoramas of the surrounding area. 
Where To Stay: Mountain Run at Boyne Mountain attracts skiers and snowboarders in the colder months, but it's just as enticing when the snow melts, with a full-service spa, two championship golf courses and much more. 
The Heart Of The Ozarks: Ridgedale, Missouri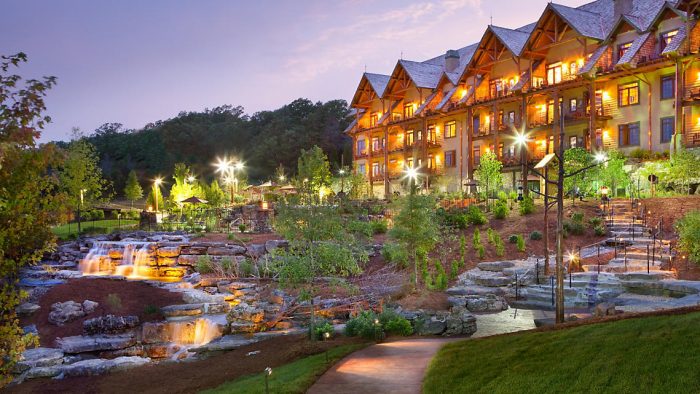 The Destination: Discover the magic of the Ozark Mountains in Ridgedale. The destination is defined by rustic luxury, blending outdoor adventure and pristine natural beauty with sumptuous comforts. Climb to the famed Top of the Rock Ozarks Heritage Preserve, where you'll enjoy ancient caves, awe-inspiring views and an array of dining options. Or journey 10 miles to Branson, where you'll find world-class entertainment in a one-of-a-kind setting. Ridgedale makes planning a perfect family vacation easy. 
Travel Tip: The Ancient Ozarks Natural History Museum is a must-visit attraction, with detailed re-creations of prehistoric creatures, an impressive collection of Native American artifacts and much more. 
Where To Stay: The sprawling Big Cedar Wilderness Club is a playground for all ages, offering a wide variety of activities and experiences, from golfing to boating to the action-packed Fun Mountain, which kids will love.