Since we're in the middle of summer, let's take a deep dive into one of our favorite topics — resort pools! From the Caribbean to California, discover some of the very best pools (and full-fledged water parks) for the whole family.
Marriott's Aruba Surf Club | Palm Beach, Aruba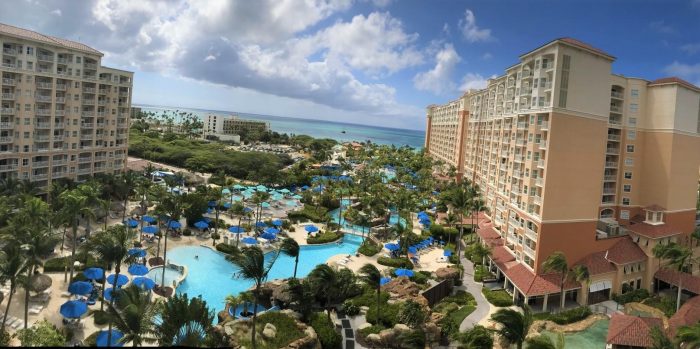 When you stay at Marriott's Aruba Surf Club, you're never far away from the sand. The oceanfront resort is just steps from Aruba's famed Palm Beach, with azure waters and gentle breezes beckoning guests. But Surf Club's pools are almost as enticing. The offerings are plentiful: there's a lively "activity pool" with cascading waterfalls, volleyball nets and a swim-up bar; there's a "serenity pool" for mellower moments (including private cabanas); and there's a long lazy river to float along. 
Bonus Aruba Travel Tip: What might be Aruba's most spectacular pool isn't located a resort. The Natural Pool in Arikok National Park is a unique geographic formation that creates an unforgettable swimming adventure. 
Harborside Resort at Atlantis | Paradise Island, Bahamas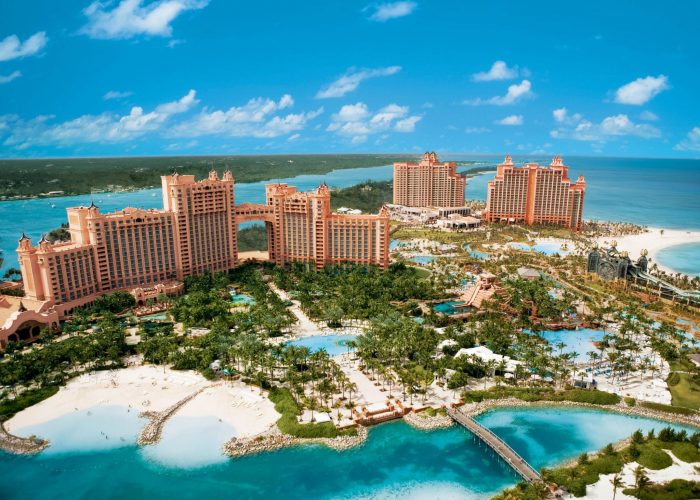 Another Caribbean pool experience you don't want to miss is Harborside Resort at Atlantis' incredible Aquaventure experience. This 141-acre waterpark is filled with thrilling high-speed water slides, a mile-long river ride including whitewater-style rapids, 11 swimming pools suitable for all ages, and an extremely fun Kids' Fort for splash-filled excitement. The best part? Admission is to Aquaventure is complimentary for over-night guests at Atlantis. 
Bonus Bahamas Travel Tip: For more "aquaventures" in the Bahamas, try cave diving in Dean's Blue Hole on Long Island. It's one of the deepest underwater caverns in the world and the waters here are crystal clear.  
Disney's BoardWalk Villas | Lake Buena Vista, Florida
When you stay at Disney's Boardwalk Villas, you're likely going to spend a good portion of your day at the nearby Disney World entertainment complex. But once you've had your fill of Mickey and the rest of the gang, this beautiful resort will welcome you back with Americana-style architecture, unique shops — and of course, a great spot for cooling off and kicking back. It's not all rest and relaxation, though. The Villas' sprawling Luna Park Pool includes a 200-foot waterslide and a whirlpool for adults, as well as the Leaping Horse Libations poolside bar. 
Bonus Lake Buena Vista Travel Tip: Each evening, Disney's Boardwalk Villas hosts a delightful Movies Under The Stars event, offering a free Disney classic on the resort's Village Green. 
The Villas at Disney's Grand Californian Hotel & Spa | Anaheim, California
On the other side of the country, Disney's Grand Californian Hotel & Spa in Anaheim gives guests easy access to Disneyland, California Adventure and the new Star Wars: Galaxy's Edge theme park. It's also home to three themed pools each one with its own distinct personality. The Redwood Pool features a 90-foot slide that slips around the trunk of an enormous Redwood replica. The Fountain Pool is great for younger kids, with a turtle-shaped fountain and shallow depths. And the Mariposa Pool is a tranquil escape, with beautiful butterfly-inspired décor and lighting, plus private poolside cabanas. 
Bonus Anaheim Travel Tip: The Grand Californian's Pinocchio's Workshop features an array of supervised activities for kids. While they're busy, adults can rejuvenate in the state-of-the-art Mandara Spa. 
Marriott's Maui Ocean Club | Maui, Hawaii
As its name suggests, the Superpool at Marriott's Maui Ocean Club is far from your average resort pool. This massive aquatic complex stretches across 3.5 acres, letting swimmers and waders travel from water slides to secluded grottos, from waterfalls framed by palm trees to welcoming swim-up bars. You'll probably want to explore more of Maui during your Hawaiian vacation, but you could certainly spend the bulk of your time in the Superpool and never get bored. 
Bonus Maui Travel Tip: Marriott's Maui Ocean Club overlooks the world-renowned Ka'anapali Beach, which isn't just a picture-perfect stretch of sand. It's also an aquatic playground, offering some of the best snorkeling and surfing in Hawaii.