Let's see what's happening beneath the waves. These scuba vacation destinations will show you a whole new world. And if you're not quite ready for scuba diving, there's good news: snorkeling can be just as fun.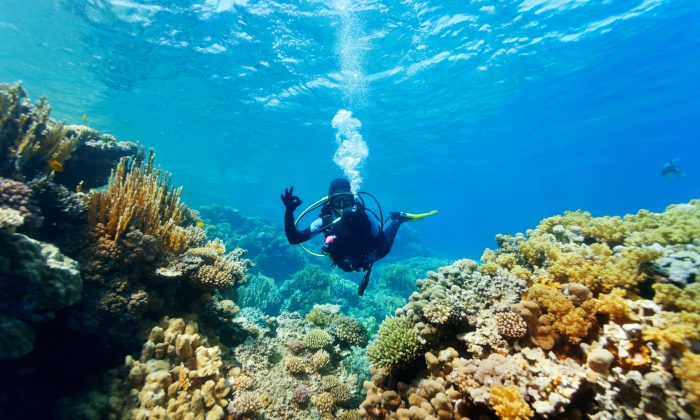 Aruba
Natural and artificial reefs that teem with marine life, mysterious shipwrecks and crystal-clear waters — Aruba has everything you're looking for in a scuba vacation. The SS Antilla, located in shallow water just offshore from the island, is well-known as one of the very best wreck dives in the Caribbean. It's also the largest, stretching 400 feet across the ocean floor. The best part? This dive is suitable for all levels of scuba experience. Over the decades, the Antilla has become a thriving ecosystem in its own right, filled with colorful tropical fish and brilliant coral. For those who just want to snorkel in Aruba, Fisherman's Hut Beach is a favorite on the island, with calm, clear waters and shallow depths — perfect for seeing what's happening beneath the waves. 
Where To Stay: Divi Aruba Phoenix Beach Resort
The Bahamas
Aruba is a great Caribbean destination for underwater exploration, but the Bahamas gives it some serious competition. The country is home to the world's third-largest barrier reef, dozens of fascinating "blue holes" and an array of shipwrecks waiting to be explored. The Bahamas also boasts warm waters year-round — and those waters offer visibility up to 200 feet. For those with nerves of steel, the destination is also known as the place to go if you want a close encounter with sharks. If that sounds like a little bit too much adventure, snorkeling is just as rewarding in the Bahamas. Rose Island Reef, just offshore from Paradise Island, is a great spot for kids and first timers. 
Where To Stay: Harborside Resort at Atlantis
Key West, Florida
You don't have to leave the U.S. to have an incredible underwater experience, of course. Key West, the southernmost point in the United States, is beloved for its scuba adventures. One of the most recent additions to the Key West scuba scene is the USS Vandenberg, a 520-foot former military troop transport that was intentionally sunk in 2009 to become the world's second-largest artificial reef. The Vandenberg is now a diver's delight, with a dizzying array of aquatic creatures making their homes throughout the wreck. The ship is so tall that it's accessible for snorkelers, too, who can peer down through the crystalline water to enjoy this unique sight. 
Where To Stay: Hyatt Sunset Harbor Resort
Lake Tahoe, California
You don't need the ocean to have a great scuba vacation. Lake Tahoe, located on the border of California and Nevada, is one of the deepest, clearest lakes in the U.S., putting it up there with the very best freshwater diving experiences in the world. Opened in 2018, the Emerald Bay Maritime Heritage Trail offers an incredible new dive park to explore, with ancient barges and boats sitting amidst sunken fir trees. Sand Harbor State Park, meanwhile, attracts novices and experienced divers alike, thanks to both shallow spots and areas that go hundreds of feet deep.  
Where To Stay: Marriott's Timber Lodge Tahoe
Hawaii
Which Hawaiian island is the best for a scuba vacation? Don't make us choose. This destination has more than 1,200 miles of coral reef, making scuba and snorkeling one of the quintessential Hawaii adventures. On "the Big Island," which has the most coastline out of any of the Hawaiian islands, snorkelers love the gentle waters of Kealakekua Bay, which are filled with tropical fish and dolphins. Off the coast of Maui, dive down to enjoy the otherworldly beauty of Molokini Crater, an underwater ecosystem that supports an incredible array of marine life. (And in the winter, Molokini is one of the best places for whale watching in Hawaii.) Finally, Shark Cove on Oahu has a reputation as one of the best snorkeling spots in the world, with clear, shallow waters — and despite its name, very few (if any!) sharks. 
Where To Stay: Marriott's Maui Ocean Club