If you're passionate about music, there are certain cities that you simply have to visit. Mixing music with travel can result in a truly extraordinary trip, one filled with magical moments and amazing sounds. But which music destinations should be at the top of your bucket list? We've narrowed it down to three essentials here. 
Music City, USA: Nashville, Tennessee
It's right there in Nashville's nickname — Music City, USA. This Tennessee city is synonymous with country music, past, present and future. Accordingly, there are countless shrines to the genre that you can visit throughout Nashville. 
With a history stretching back more than a century and unparalleled acoustics, the Ryman Auditorium has hosted every superstar you can think of, from Hank Williams to Taylor Swift; you can book a VIP tour that takes you behind the scenes of this legendary venue. 
You'll also want to explore the Country Music Hall of Fame, which pays tribute to the biggest names in the music world, including interactive exhibits and more than two million artifacts that tell the story of country music. It's not all about the big names, however. In clubs like the 90-seat Bluebird Café, you can catch tomorrow's stars in an incredibly intimate setting. 
Where To Stay: Named for Jimmy Buffet's classic tune, Margaritaville Vacation Club by Wyndham – Nashville puts music front and center throughout — there are even turntables and vinyl records in the suites. 
On Broadway (And Beyond): New York City, New York
For some of us, there's nothing better than a big Broadway musical, with stirring songs, dazzling dance numbers and vibrant costumes. And the best place to see a Broadway musical is — of course — on Broadway in New York City. From Hamilton to Phantom of the Opera, NYC is the epicenter of the musical theater world, and you can be a part of the magic, not matter what time of year you visit. 
And if you're not a musical theater enthusiast, New York City is still one of the very best music destinations. You could spend every night during your vacation seeing phenomenal performances, whether it's opera at Lincoln Center, jazz at the venerable Village Vanguard or indie rock at Brooklyn's Union Pool. 

And in the summertime, things move outdoors, with an array of (often free) concerts taking place in New York City parks, bandshells and green spaces. Check here for upcoming schedules.  
Where To Stay: With a convenient location in the heart of the city, The Manhattan Club offers its guests easy access to Central Park, Times Square, Broadway's theaters, Carnegie Hall and much more. 
The Birthplace Of Jazz: New Orleans, Louisiana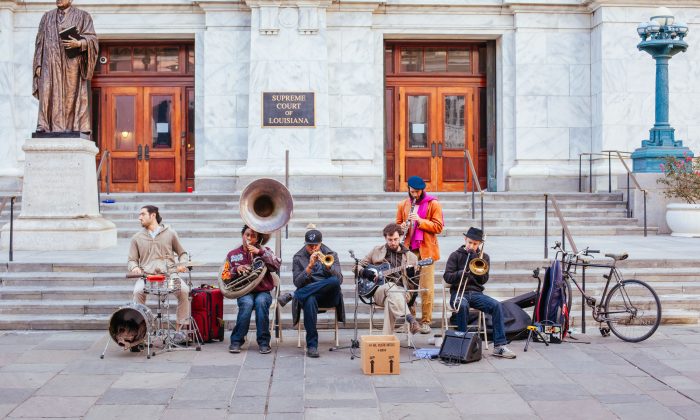 Music is everywhere you look in New Orleans, from cozy bars to crowded clubs, from lavish concert halls to the city's street corners. Get your bearings at the New Orleans Jazz Museum, which features multimedia exhibits that show how jazz originated in the Crescent City. Here, you'll find listening stations, a recording studio, a dance floor and more, all bringing the music to vivid life. 
Music is far from just a museum piece in the Crescent City, however. When you stroll the French Quarter, you'll be able to check out some wildly talented street performers, playing everything from jazz to blues to folk (and much more). Venture into clubs like Snug Harbor, Tipitina's and the Spotted Cat and you'll join fellow music lovers for long nights filled with revelry.
Then there are the various festivals that take place throughout the year in New Orleans. Plan your trip during such events as New Orleans Jazz & Heritage Festival, Satchmo Summerfest or the French Quarter Festival and you're guaranteed to have an unforgettable journey into the beating heart of New Orleans music. 
Where To Stay: A luxury resort in the heart of the French Quarter, the Quarter House blends historic charm with up-to-date amenities, all within steps of one of the most exciting neighborhoods in the U.S. 

Start planning your music-centric vacation with RedWeek now.