There's no place quite like Aruba. With its beautiful beaches, luxurious resorts and fascinating Dutch-Caribbean culture, it's no wonder it remains one of the world's most popular vacation destinations year after year. But it's only the beginning of your Caribbean vacation options. If you've already fallen in love with Aruba, it's worth checking out some other destinations, each one with its own distinct personality. 
European Charm: St. Martin
Like Aruba, St. Martin has a Dutch heritage — with a bit of French flavor thrown in for good measure. The Dutch side, known as St. Maarten, is known for its lively nightlife, casinos, and duty-free shopping. The French side offers a mix of European charm and Caribbean flair, with quaint villages, chic boutiques, and gourmet restaurants. Wherever you end up in St. Martin, you're going to be spending a lot of time out on the water. The destination is legendary for its water sports, including unparalleled snorkeling, scuba diving and windsurfing.  
Where To Stay: Royal Palm Beach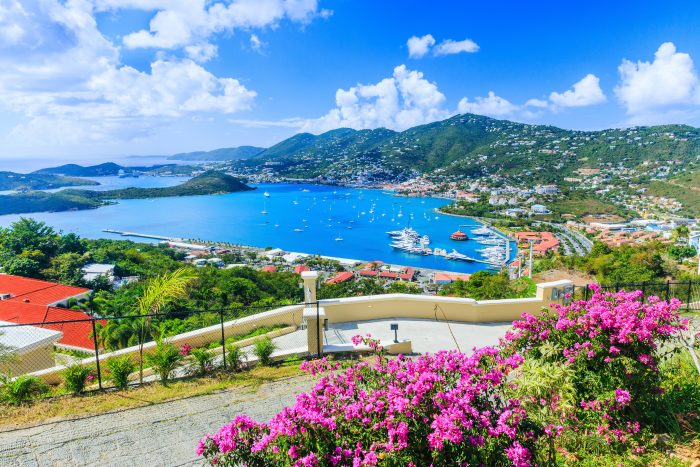 Island Romance: St. Lucia 
If you're looking for a romantic getaway, St. Lucia is an idyllic alternative to Aruba. Located in the eastern Caribbean, it's the kind of destination that couples will fall in with love at first sight. Take a sunset cruise along the stunning coastline, savoring the vibrant hues of the sky over champagne. For a touch of adventure, explore the island's lush rainforests, discovering hidden waterfalls and secluded pools. The island's pristine beaches, meanwhile, are perfect for romantic walks, with soft sand and waves gently lapping the shore.
Where To Stay: Windjammer Landing Villa Beach Resort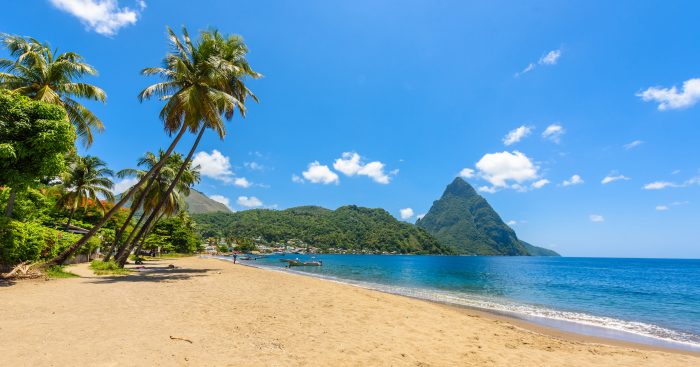 Outdoor Excitement: The Bahamas
Just a short direct flight from Florida, the Bahamas are known for their white sand beaches, crystal clear waters, and spectacular scenery. It's also a place where eco-adventures can be found in abundance. Take a plunge in one the Bahamas' famed "blue holes" — basically an underwater cavern — which offer incredible visibility for scuba divers and snorkelers. Or test your bravery by cliff-diving at the rugged cliffs on Eleuthera Island, where you'll leap into calm, deep waters. Of for something a little mellower, try the Queen's Bath, a natural hot tub warmed by the sun. 
Check out RedWeek's Bahamas travel guide. 
Where To Stay: Harborside Resort at Atlantis
Caribbean Luxury: The Cayman Islands 
A British Overseas Territory located in the western Caribbean, the Cayman Islands are ideal for anyone in search of a luxurious escape with more than a touch of glamor. Once you set foot on Grand Cayman's famous Seven Mile Beach, you'll feel more in touch with your inner celebrity. But the beach is just the beginning. Grand Cayman has a well-deserved reputation as the art capital of the Caribbean; at the National Gallery of the Cayman Islands, where you'll find an impressive collection of Caymanian and international masterpieces. The destination also features an array of upscale shopping options if you're in the mood for a spree. 
Where To Stay: Marriott's Grand Resort
Endless Eco-Adventures: St. John
St. John is the smallest island of the US Virgin Islands. But what it lacks in size, it makes up for in pure adventure. A whopping two-thirds of the island is protected as part of the Virgin Islands National Park, which offers a variety of hiking trails, snorkeling spots, and historical sites. Dive into sparkling waters to discover coral reefs teeming with marine life; St. John's Underwater Snorkeling Trail is a unique eco-attraction. Hike to craggy cliffsides to check out ancient petroglyphs. Enjoy close-to-perfect weather 365 days a year, with temperatures rarely dipping below 70 degrees Fahrenheit. 
Where To Stay: Westin St. John – Virgin Grand Villas
Still want to go to Aruba? No problem. Check out RedWeek's Aruba vacation rental offerings.