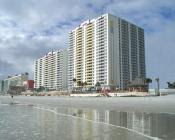 The Wyndham Ocean Walk is your one-stop family vacation destination in Daytona Beach, Florida. Why? Because there are so many things to do, all close to the resort. Located on the world's most famous beach, the resort is right next door to the expansive Ocean Walk Village complex which features three-levels of entertainment including restaurants, theaters, and specialty shops.
On the property itself you'll find many amenities the family will enjoy including: four pools, a water slide, pool bar, a "kiddie" pool, the kid's Interactive Aquatic Center, a putting green, and their special "Get Out & Play" activities program. In addition, there are also great indoor activities such as: a pool table, arcade, and a nine-hole mini golf course, plus an exercise facility, and spa.
When exploring the city, remember that Daytona Beach is best known for its 23 miles of beaches and NASCAR racing, but, there are also downtown historical areas to visit. As you enjoy the beautiful scenery, you may want to consider a diving and deep sea fishing adventure where you could see wild dolphins and flying fish. It's all here, just waiting to be discovered on your next family vacation.