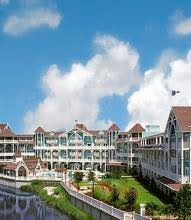 Did you know, several Disney timeshare resorts in Buena Vista, Florida, were listed by Redweek's members in the top 10 of the list of the Top 25 Timeshare Rental Resorts. Everyone loves Disney, but not everyone can afford the hotel rates to stay at Disney resorts. However, when you rent a timeshare, you'll see just how budget-minded a Disney vacation can be. This is the way to take the entire family on a Disney winter vacation to sunny Florida.
How about enjoying a family vacation in the mountains without having to endure winding roads, chilly nights, and thin air? It's easily done by renting a budget timeshare at the Villas at Disney's Wilderness Lodge, starting at just $107/night. Listed at number 8 this resort has a National Parks old lodge rustic feel to it. You'll even get to watch the Old Faithful geyser faithfully erupt. Open your windows and enjoy the lovely pine-scented air from the secluded woods behind the villas. "It is so wonderful, by far the best of Disney's Deluxe Resorts. Don't miss it!" says a RedWeek member.
Are charming island hamlets more your style? Disney's Old Key West Resort evokes the quaint era of the 1900s in the Florida Keys, complete with a replica of the Key West Lighthouse. This very first Disney timeshare resort was listed as number 7, and timeshare rentals here begin at $130/night. You'll feel tucked away from the real world in a peaceful tropical getaway. Besides normal Disney bus transportation anywhere in the parks you want to go, including the amazing 18-hole golf course, there is also a fun boat ride to Downtown Disney. "Addicted – Already planning next trip!" says another member.
A 1930's eastern seaboard boardwalk along the shore is what is summoned up at Disney's BoardWalk Villas. Coming in at number 2 on the Top 25 list, pets are allowed at this Atlantic City-style seaside resort, where timeshare rentals start at just $126/night. The old Americana ambiance will transport you to another time and place. Rent a paddle boat or a surrey bike and enjoy another era. Member quote: "It's a beautiful resort with great service – you'll love it here!"
Disney's Beach Club Villas was voted as the number 1 timeshare rental resort by Redweek members, and is considered one of the top resorts in the world. (see photo) This amazing resort has 3 acres of water slides and sand bottom pools, a white sand beach, and even pontoon boating. Timeshare rentals start at $175/night which gives you a "three-fer" – guests here are also welcome to enjoy the amenities of Disney's Yacht Club and Disney's Beach Club Resorts located right next door. If you are going over Christmas, see what this member has to say: "Best thing were the Christmas decorations. We took almost an entire day just to visit each resort and look at all the decorations. Amazing!"