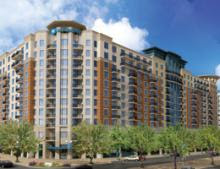 Wyndham has announced the February, 2010, opening of its newest resort, the Wyndham Vacation Resorts at National Harbor. A multi-use development, National Harbor sits along the historic Potomac River, in Prince George's County, Maryland, close to the national monuments and museums of Washington, D.C.
This urban timeshare resort is Wyndham's second in the Washington, D.C. area. Wyndham Old Town Alexandria, in Alexandria, Virginia, is wildly popular for vacationers eager to stay in a timeshare and experience the many historic sites and events in the Nation's Capital.
The Wyndham Vacation Resorts at National Harbor has 250 condominium-style, fully furnished units, including 42 presidential suites, built in an 11-story tower. It features a health and fitness club, indoor and outdoor heated swimming pools, an outdoor terrace with a spa and kiddie pool, as well as a recreation room. And guests will be able to enjoy a wide variety of shopping and dining options within the National Harbor complex.
The hotel is also partnering with The Fishing School, offering $25,000 to help with the Washington, D.C., nonprofit's after-school education and enrichment program. "Wyndham will also host students and their families at the resort four times a year for a three-night vacation as a reward for top quarterly performances," Franz Hanning, CEO of Wyndham Vacation Ownership, stated.
The Wyndham Vacation Ownership group, under its parent company, Wyndham Worldwide Corp of New Jersey, as been increasing its portfolio of urban resorts. It now has timeshare resorts in numerous cities, including San Francisco, San Antonio, and Sidney, Australia. Urban timeshare resorts are gaining in popularity, designed to offer owners convenient access to the shopping, dining, and nightlife, as well as the cultural attractions and events, of major metropolitan destinations.
"The fact that our National Harbor property is more than 75 percent sold out is a testament to the popularity of our urban properties and the Washington D.C. area," said Hanning.