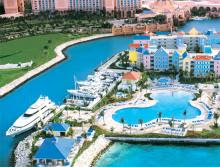 Calling all Spring Breakers! You know who you are – you've had "cabin fever" for months now, being tied to school and studies, and you're ready to finally break out and have some fun. But, how can you afford the Spring Break vacation that you really deserve? Think about timeshare rentals.
One way to have a fantastic Spring Break experience is to stay at a luxury beach resort. Even students on a budget can afford an extravagant vacation when you get a group of friends together and rent a timeshare. Everyone in your group can experience the joys of a luxury beach vacation for a very affordable price.
Plus, the fully-equipped kitchen will help you save on the cost of meals. It's fun to eat out at great restaurants, but over a week's time that can break the bank. Instead, fix breakfasts, lunches and snacks in your own "home." Most resorts are near towns where you can easily pick up groceries, and some resorts will even stock your kitchen to your specifications prior to your arrival.
Activities on Spring Break vacations are another source of expense. Renting a timeshare at a resort not only gives you an inexpensive place to sleep at night, but the resort's amenities are included in that price. These will almost always include swimming pools and spas, and in some fancier resorts even water parks. You can also find resorts that offer tennis, basketball and volleyball. Choose a resort with a golf course, dance classes, or snorkeling, and even an arcade game room. Many resorts in Mexico and the Caribbean have on-site nightclubs that are discounted to those staying at the resort.
To get you started planning your Spring Break vacation, we've given you a timeshare rental sampler with great beach resorts to choose from:
Coconut Bay Resort, Ft. Lauderdale, Florida starts at $86/night. Wyndham Panama City at Emerald Beach, Panama City Beach, Florida starts at $83/night. Cabo Villas, Cabo San Lucas, Mexico, starts at $86/night. Palace Resort at Moon Palace, Cancun, Mexico, starts at an unbelievable $14/night. Aruba Beach Club, Oranjestad, Aruba, Caribbean starts at $93/night. And finally, the world famous Harborside Resort at Atlantis, Paradise Island, Bahamas, Caribbean, has timeshare rentals that start at just $57/night (see photo above).
You simply can't beat timeshare rental as the way to have the best – and cheapest – Spring Break luxury vacation.
Categorized in: Aruba Beach Club, Cabo Villas, Coconut Bay Resort, Harborside Resort at Atlantis, Palace Resort, rent a timeshare, timeshare rentals, timeshare vacation, Wyndham Panama City