Article written by guest blogger: John Locher, VP of Marketing for RedWeek.com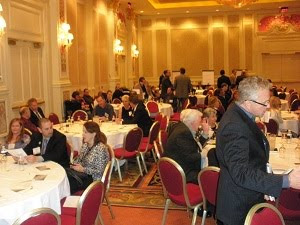 The American Resort Development Association's (ARDA) convention was another successful event in the midst of a turbulent period in the timeshare industry. Even in a disruptive time for timeshare companies there are glimmers of hope and change for the consumer. The Timeshare Resale Forum was the biggest topic on the agenda and it was full of concerned companies and solution providers, most of which were legitimate options for consumers. In a time of change for timeshare industry this is a good time to clean up the bad practices and set some policy in place to help timeshare owners.
ARDA leadership, headed up by CEO Howard Nusbaum, called for a healthy and transparent secondary market. This is essential to the overall success of the timeshare industry. Consumers who love their timeshare want more options and fewer scams. But getting best practices and regulations mutually agreed upon is a tall order.
During the Resale Forum the mood began somewhat tense when a gathering of competitors, with various business practices, started discussions with an unpredictable and contentious feel. Mr. Nusbaum did his best to set a nice tone for the meeting and at the end he even asked if anyone had a burning issue they wanted to share, but no one stepped up. The biggest problem was that the task at hand was to draft resale survey questions for the ARDA International Foundation's upcoming resales survey. This was something everyone was told about ahead of time, but, instead, many were attempting to vent and express their own agenda for the resale industry.
Some overall problems in the resale industry are that heavy up front fees, unsubstantiated promises to the consumer and blatant scam companies are badly tarnishing the legitimate business of others. ARDA's proposed Model Resale Act attempts to put some policy in place for this but it is up to the state policy-makers to adopt in what will certainly be their own interpretation. There is a long road to a better secondary market for consumers and RedWeek.com is working as part of this effort.
Consumers can best help themselves by using common sense and doing research on the company they may consider to help rent or sell their timeshare. Visit the BBB.org (www.bbb.org) to check the rating of a Website or timeshare resale company. Conduct a simple Google search on the company name and read through a few pages of links to see what you find. You can also review the resales guidelines at the ARDA.org Website.
Timeshare is a wonderful commitment to a vacation lifestyle at wonderful locations and resorts. It is not for everyone and should never be entered into with any thoughts of investment. Using your timeshare is always the best option and timeshare rental if you are not going to use it provides cash back in your pocket to cover annual fees. There is always exchange and selling it once you really decide you are done.