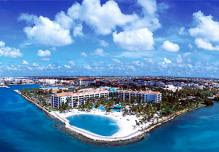 "The Renaissance Aruba Resort & Casino is a hotbed of activity from morning until night." No wonder it was listed by RedWeek users on the Top 25 Timeshare Rental Resorts list. Located in the heart of Aruba's capital, Oranjestad, this luxury resort (with timeshare rentals that start at an incredible budget-friendly $100/night) is quite a unique vacation destination. Its one-of-a-kind layout includes resort grounds that are located on both sides of the capital's main street, and a private island for its guests.
The private island, known as Renaissance Island, is an astounding 40 acres of private beach (the only private beach on Aruba). Spend your days relaxing and basking in the sun on an exclusive beach that is the envy of other vacationers on Aruba. Renaissance Island also has a tennis court.
This resort boasts 15 restaurants, 3 pools, 6 cinemas, and the Crystal Theater with the popular live show "Let's Go Latin!" The 4-acre Wilhelmina Park has jogging trails, and the Kid's Club offers an award-winning children's program. World-class shopping is just steps away in downtown Oranjestad. But if you don't want to leave the resort, there are 130 shops on the premises for your shopping pleasure.
The Renaissance is home to what is considered the best casinos, and nightlife, on Aruba. It has a total of 6 lounges, and the Crystal Casino and Seaport Casino both offer 24-hour gaming.
If you're still looking for something to do, head down to the full-service marina, or spend time in the resort's two fitness centers and two spas.
A RedWeek member's review says it all:
"We stayed at the Renaissance Week 52 on New Year's Week and LOVED it. We had maid service early every day and found the units to be very clean and perfect for our family of four. We liked staying in a place that is big enough to make us feel like we're part of a community but small enough that we got personal service. We rented a car but found we didn't need it because there are so many fabulous restaurants, shops and sights within a 5 minute walk. Best of all is the Renaissance private beach island with the flamingos — not crowded and very pretty. We think this place is special and unique. If you rented the same unit as a hotel guest you would be talking about $600 a day."
Categorized in: Aruba timeshare, redweek, Renaissance Aruba, timeshare rentals