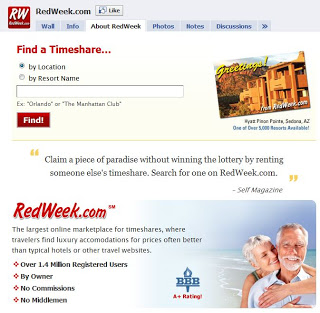 This week RedWeek.com launched a new "About RedWeek" page on their Facebook site. We're very excited to add this page to our Facebook site because it gives us a chance to explain more about how RedWeek.com is top site for "By Owner Timeshare Rentals and Resales" and allows travelers to do a quick timeshare resort search. Those who are not already fans of our page (or are not logged in to Facebook) will see this new page when they visit facebook.com/redweek.
If you are already a fan, and logged in to Facebook, you will automatically see the page of our wall posts with great content and articles about wonderful timeshare destinations to travel to. We've even added a new graphic to that page too! But, you can see the new page any time by simply clicking the "About Redweek" tab while on the RedWeek Facebook page.
You may want to visit this page for a quick and easy way to search timeshare resorts. You can search by location or resort name and when you click "Find" a timeshare, you'll be taken right to Redweek.com to complete your search. It's free to browse over 5,000 timeshare resorts with a guest login. And, if you are already a member, you can easily login to view resort ideas for your next vacation.
So, visit us on Facebook and if you haven't already become a fan, click the "Like" button and show us your appreciation for RedWeek.com, the largest online marketplace for timeshare rentals, timeshare resales and timeshare exchanges. A dream vacation is affordable at RedWeek.com. It's a secret that's too good to keep, so, don't forget to tell your friends.
Categorized in: Facebook, redweek.com, timeshare exchanges, timeshare rentals, timeshare resales