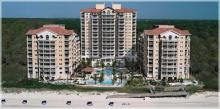 This summer Marriott Vacation Club announced the final phase opening of Marriott's OceanWatch Villas at Grande Dunes in Myrtle Beach, S.C. Located in the exclusive Grande Dunes master-planned community, amidst stately southern homes and along the blue Atlantic Ocean with miles of pristine beaches, this extraordinary resort is "the perfect blend of luxurious accommodations."
The new phase offers 75 additional two-bedroom, two-bathroom villas and brings this popular timeshare resort to completion. Adding onto the resort's existing 286 two-bedroom villas, the new villas bring the resort to a total of 361 villas, each with approximately 1,100 square feet of living space.
Marriott's OceanWatch Villas at Grande Dunes welcomes owners and guests with "a taste of southern living at its best." Each luxurious villa includes a fully-equipped kitchen with granite countertops, spacious living and dining areas, multiple televisions and DVD player, washer/dryer and a private balcony with sweeping ocean and garden views. Two-bedroom villas can accommodate up to eight guests.
"We are excited to open the final phase of villas at this fabulous resort, offering more luxurious accommodations for more families to enjoy in beautiful Myrtle Beach," said Michael Reilly, general manager of Marriott's OceanWatch Villas at Grande Dunes.
Owners and guests can enjoy a variety of resort amenities for all ages, including:
Three outdoor pools, a children's pool, a slide pool and four whirlpool spas
One indoor pool, a children's indoor pool and indoor whirlpool spa
The MarketPlace convenience store and grille
Fire pit and putting green
Children's three-story tree house play area
Bocce ball and shuffle board courts
Sports court including basketball and volleyball
Expansive beachfront with private beach walkway
If you are thinking of purchasing a timeshare resale at this resort, consider what some members of redweek.com have said in reviews about Marriott's OceanWatch Villas at Grande Dunes:
"We have vacationed to many parts of the world – Marriott OceanWatch is THE BEST!!! OF THE BEST !!! NOTHING COMES CLOSE!"
"Marriott's OceanWatch is absolutely 5-Star, First Class. We cannot recommend it enough."
"The facilities are top notch and maintained to as high a standard as you could ask for. The location makes it very convenient for visiting the attractions at Myrtle Beach. It is a great place for a family vacation."
Rent a timeshare here for as low as $114/night, and experience this luxury resort yourself!